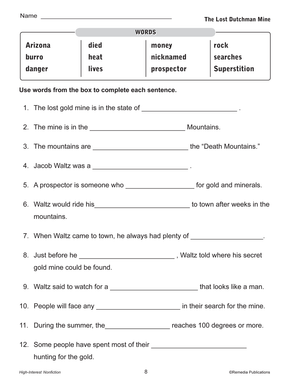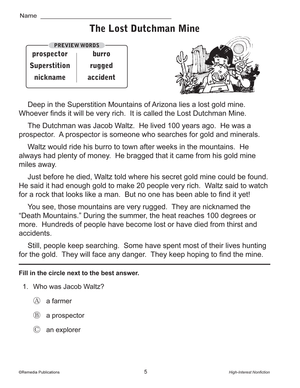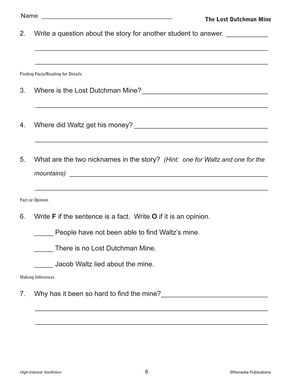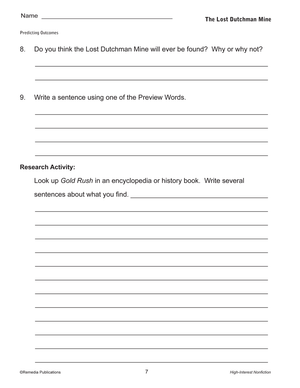 High-Interest Nonfiction Gr. 4-12, R.L. 3-4
EREM1031
Capture your students' attention and improve their reading comprehension skills with high-interest history and science topics!
This book features 49 nonfiction stories based on themes ranging from pyramids and the D-Day Invasion to dolphins and wasps. Following each story are three skill pages featuring literal and interpretive comprehension questions based on Bloom's Taxonomy, sentence writing practice, and a research/writing activity. A chart of skills and answer key included.
The stories encompass 5 themes:
• Hidden Treasures and Other Mysteries
• Creatures of the Earth and Sea
• Inventors and Inventions
• Heroes and Heroines
• American Heritage and History.
This versatile book is ideally suited for use in a differentiated classroom.  Each four-page unit in the collection covers a wide variety of skills while providing activities suitable for differing ability levels.
The following activities are included with each story:
• Preview Words
• A Question in Test Format
• At least two Sentence Writing Questions
• Several Literal Comprehension Questions
• Several Critical Thinking Questions based on Bloom's Taxonomy
• A Research/Writing Activity
• A Review Page in Cloze Format.
A wonderful supplement to any reading, history, or science program!
208 pages.
---
---