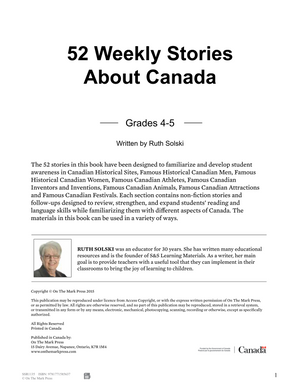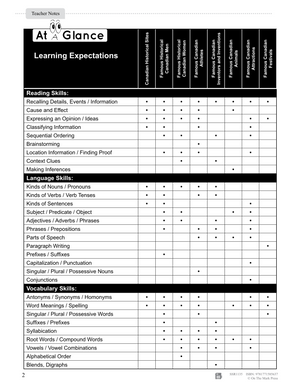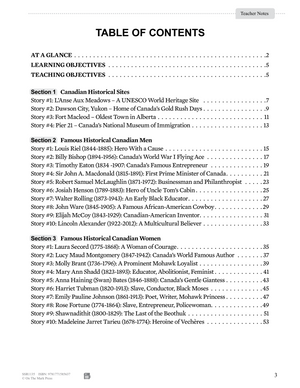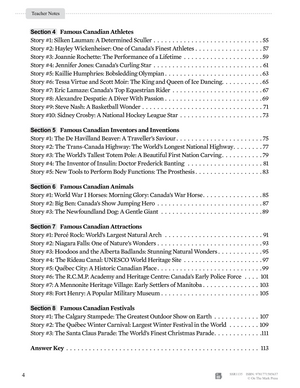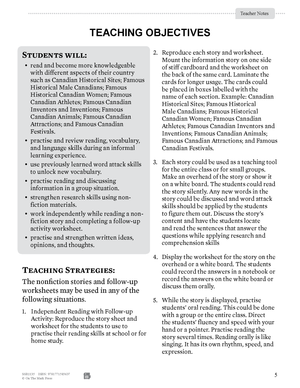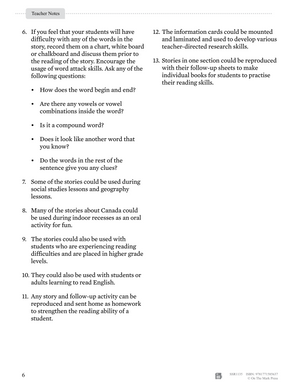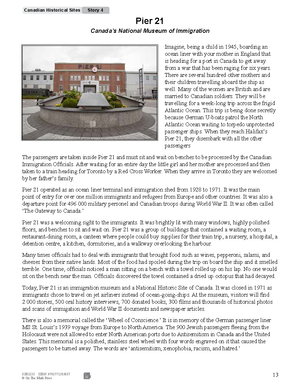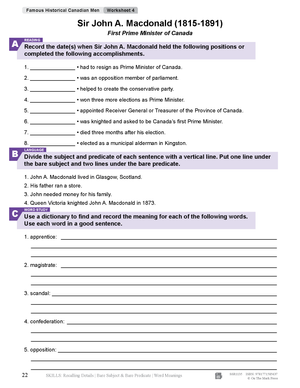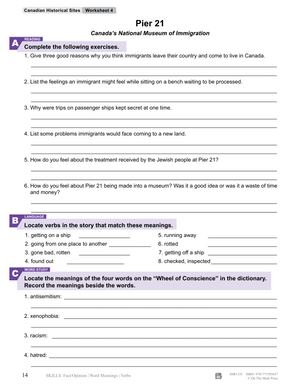 52 Weekly Nonfiction Stories About Canada Grades 4-5
EBR1135
The 52 nonfiction stories in this book have been designed to familiarize and develop student awareness of Canada. A year of nonfiction reading in one book! One story a week for bell work, review, indoor recess, enrichment or for the students who are done their work early.
Each section contains nonfiction stories and follow-ups designed to review, strengthen, and expand students' reading and language skills while familiarizing them with different aspects of Canada. The materials in this book can be used in a variety of ways.
Section 1 Canadian Historical Sites
Story #1: L'Anse Aux Meadows – A UNESCO World Heritage Site
Story #2: Dawson City, Yukon – Home of Canada's Gold Rush Days
Story #3: Fort Macleod – Oldest Town in Alberta
Story #4: Pier 21 – Canada's National Museum of Immigration
Section 2 Famous Historical Canadian Men
Story #1: Louis Riel (1844-1885): Hero With a Cause
Story #2: Billy Bishop (1894-1956): Canada's World War I Flying Ace
Story #3: Timothy Eaton (1834 -1907): Canada's Famous Entrepreneur
Story #4: Sir John A. Macdonald (1815-1891): First Prime Minister of Canada
Story #5: Robert Samuel McLaughlin (1871-1972): Businessman and Philanthropist
Story #6: Josiah Henson (1789-1883): Hero of Uncle Tom's Cabin
Story #7: Walter Rolling (1873-1943): An Early Black Educator
Story #8: John Ware (1845-1905): A Famous African-American Cowboy
Story #9: Elijah McCoy (1843-1929): Canadian-American Inventor
Story #10: Lincoln Alexander (1922-2012): A Multicultural Believer
Section 3 Famous Historical Canadian Women
Story #1: Laura Secord (1775-1868): A Woman of Courage
Story #2: Lucy Maud Montgomery (1847-1942): Canada's World Famous Author
Story #3: Molly Brant (1736-1796): A Prominent Mohawk Loyalist
Story #4: Mary Ann Shadd (1823-1893): Educator, Abolitionist, Feminist
Story #5: Anna Haining (Swan) Bates (1846-1888): Canada's Gentle Giantess
Story #6: Harriet Tubman (1820-1913): Slave, Conductor, Black Moses
Story #7: Emily Pauline Johnson (1861-1913): Poet, Writer, Mohawk Princess
Story #8: Rose Fortune (1774-1864): Slave, Entrepreneur, Policewoman
Story #9: Shawnadithit (1800-1829): The Last of the Beothuk
Story #10: Madeleine Jarret Tarieu (1678-1774): Heroine of Vechères
Section 4 Famous Canadian Athletes
Story #1: Silken Lauman: A Determined Sculler
Story #2: Hayley Wickenheiser: One of Canada's Finest Athletes
Story #3: Joannie Rochette: The Performance of a Lifetime
Story #4: Jennifer Jones: Canada's Curling Star
Story #5: Kaillie Humphries: Bobsledding Olympian
Story #6: Tessa Virtue and Scott Moir: The King and Queen of Ice Dancing
Story #7: Eric Lamaze: Canada's Top Equestrian Rider
Story #8: Alexandre Despatie: A Diver With Passion
Story #9: Steve Nash: A Basketball Wonder
Story #10: Sidney Crosby: A National Hockey League Star
Section 5 Famous Canadian Inventors and Inventions
Story #1: The De Havilland Beaver: A Traveller's Saviour
Story #2: The Trans-Canada Highway: The World's Longest National Highway
Story #3: The World's Tallest Totem Pole: A Beautiful First Nation Carving
Story #4: The Inventor of Insulin: Doctor Frederick Banting
Story #5: New Tools to Perform Body Functions: The Prosthesis
Section 6 Famous Canadian Animals
Story #1: World War I Horses: Morning Glory: Canada's War Horse
Story #2: Big Ben: Canada's Show Jumping Hero
Story #3: The Newfoundland Dog: A Gentle Giant
Section 7 Famous Canadian Attractions
Story #1: Percé Rock: World's Largest Natural Arch
Story #2: Niagara Falls: One of Nature's Wonders
Story #3: Hoodoos and the Alberta Badlands: Stunning Natural Wonders
Story #4: The Rideau Canal: UNESCO World Heritage Site
Story #5: Québec City: A Historic Canadian Place
Story #6: The R.C.M.P. Academy and Heritage Centre: Canada's Early Police Force
Story #7: A Mennonite Heritage Village: Early Settlers of Manitoba
Story #8: Fort Henry: A Popular Military Museum
Section 8 Famous Canadian Festivals
Story #1: The Calgary Stampede: The Greatest Outdoor Show on Earth
Story #2: The Québec Winter Carnival: Largest Winter Festival in the World
Story #3: The Santa Claus Parade: The World's Finest Christmas Parade
120 pages including an answer key.
You may also like:
Canadian Daily Language Activities
Canadian Math Google Slide Activities
Subscribe to our Fan List!: Our FANlist newsletter is full of tips on ways to save time with our resources, exclusive sales, new product info and free monthly downloads – you won't want to miss out!
Follow us on:
---
---