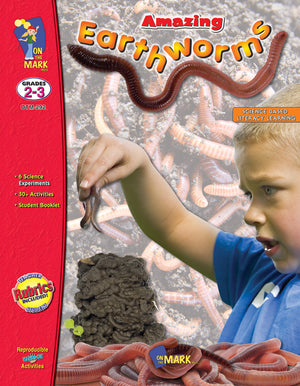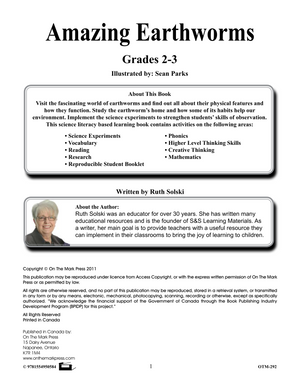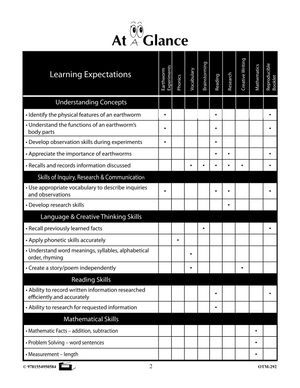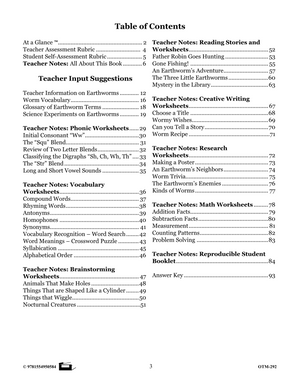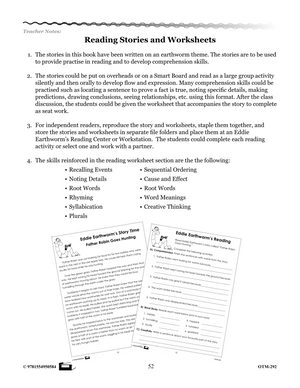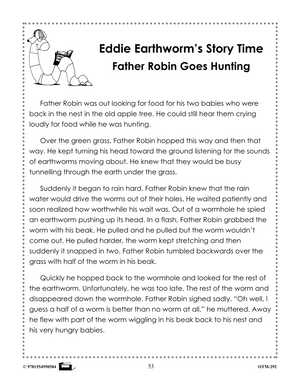 Amazing Earthworms Grades 2-3 - Science Experiments and Cross Curricular Worksheets
EBOTM292
This science literacy based unit contains 6 science experiments and over 30 cross curricular activities. A seven page student booklet complete this unit and can be used as a whole class or small group assessment. Students will study the earthworm's physical features and how they function, it's home and how some of its habits help our environment.
 The activities focus on the following learning objectives:
To make students familiar with the physical features of an earthworm and its functions, its home, and its habits.
To make students more aware of the importance of earthworms and how they help our environment.
To provide students with the opportunity to participate in scientific experiments pertaining to earthworms
 Science Experiment Topics:
 Worm Watching
Earthworm Movements on Different Surfaces
Making an Earthworm Home
An Earthworm's Physical Appearance
An Earthworm's Reactions to Light and Darkness
An Earthworm's Reactions to Damp and Dry Areas
 For the Teacher:
Teacher Assessment Rubric
Student Self-Assessment Rubric
Teacher Notes: All About This Book
Teacher Input Suggestions
Teacher Information on Earthworms
Worm Vocabulary
Glossary of Earthworm Terms
Science Experiments on Earthworms (teacher directed with worksheets)
Teacher Notes: 7 page Reproducible Student Booklet to be completed with the whole class or small groups.
 Activities cover these skills and topics:
 Teacher Notes: Phonic Worksheets
Initial Consonant "Ww"
The "Squ" Blend
Review of Two Letter Blends
Classifying the Digraphs "Sh, Ch, Wh, Th"
The "Str" Blend
Long and Short Vowel Sounds
 Teacher Notes: Vocabulary Worksheets
Compound Words
Rhyming Words
Antonyms
Homophones
Synonyms
Vocabulary Recognition – Word Search
Word Meanings – Crossword Puzzle
Syllabication
Alphabetical Order
 Teacher Notes: Brainstorming Worksheets
Animals That Make Holes
Things That are Shaped Like a Cylinder
Things that Wiggle
Nocturnal Creatures
 Teacher Notes: Reading Stories and Worksheets
Father Robin Goes Hunting
Gone Fishing!
An Earthworm's Adventure
The Three Little Earthworms
Mystery in the Library
 Teacher Notes: Creative Writing Worksheets
Choose a Title
Wormy Wishes
Can you Tell a Story
Worm Recipe
 Teacher Notes: Research Worksheets
Making a Poster
An Earthworm's Neighbors
Worm Trivia
The Earthworm's Enemies
Kinds of Worms
 Teacher Notes: Math Worksheets
Addition Facts
Subtraction Facts
Measurement
Counting Patterns
Problem Solving
---
---