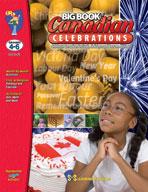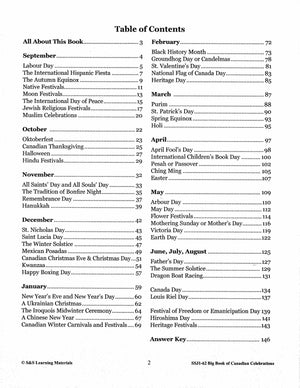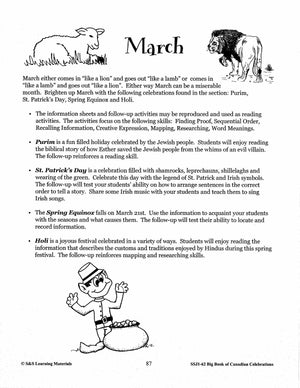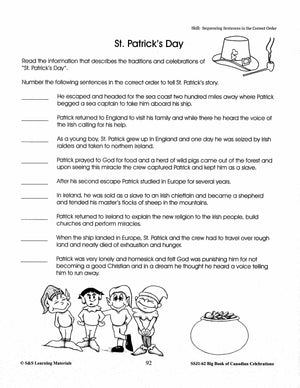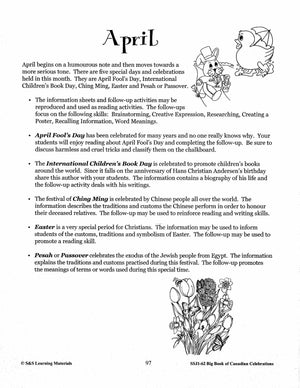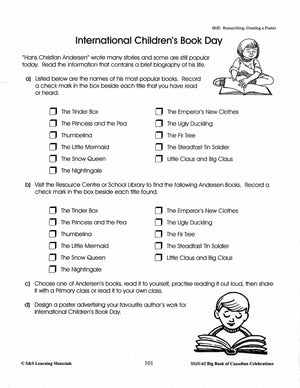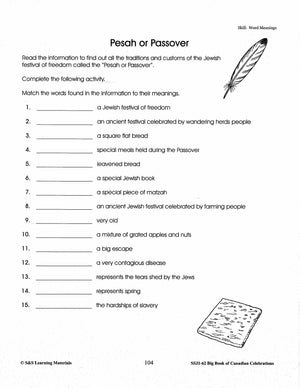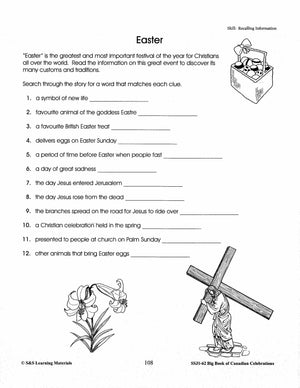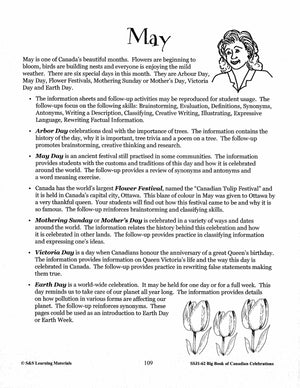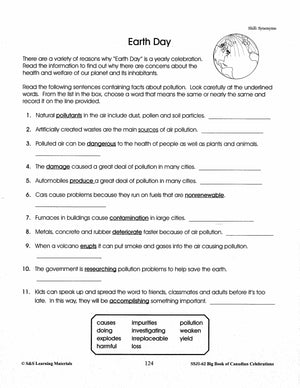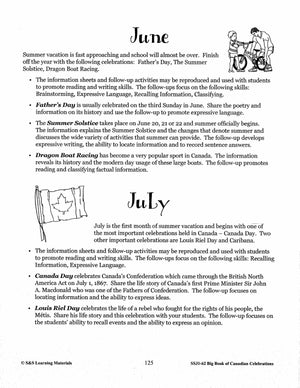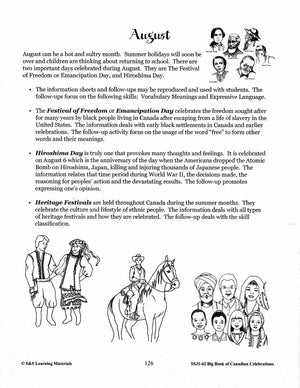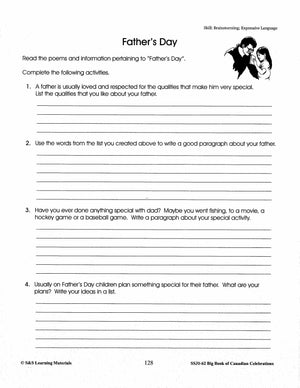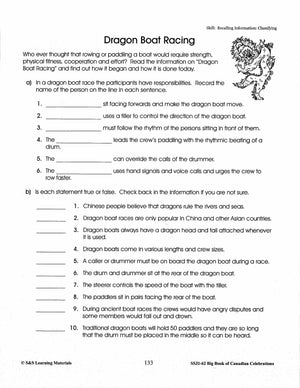 Big Book of Canadian Celebrations Grades 4-6
EBJ162
Give your students a reason to celebrate each and every month of the year with this giant book of Canadian holidays.
Religious, civil, and seasonal holidays with origins in Aboriginal, African, Chinese, European, Hindu, Japanese, Muslim, and North American traditions are all included.
The effect is a well-rounded, and fascinating glimpse at the stories, people, and values that Canadians find important.
Skills in reading, writing, and critical thinking are featured in hands-on activities augmented by an extensive teacher guide, answer key and, background information for all the holidays.
Canadian Celebrations by Month:
September
Labour Day
The International Hispanic Fiesta 
The Autumn Equinox:
Native Festivals
Moon Festivals
The International Day of Peace
Jewish Religious Festivals
Muslim Celebrations 
October
Oktoberfest 
Canadian Thanksgiving 
Halloween 
Hindu Festivals
November
All Saints' Day and All Souls' Day
The Tradition of Bonfire Night
Remembrance Day 
Hanukkah 
December
St. Nicholas Day
Saint Lucia Day
The Winter Solstice
Mexica Posadas
Canadian Christmas Eve & Christmas Day
Kwanzaa 
Happy Boxing Day
January
New Year's Eve and New Year's Day
A Ukrainian Christmas
The Iroquois Midwinter Ceremony
A Chinese New Year
Canadian Winter Carnivals and Festivals
February 
Black History Month 
Groundhog Day or Candelmas
St. Valentine's Day
National Flag of Canada Day
Heritage Day
March 
Purim 
St. Patrick's Day
Spring Equinox
Holi 
April 
April Fool's Day 
International Children's Book Day 
Pesah or Passover 
Ching Ming 
Easter 
May
Arbour Day 
May Day 
Flower Festivals
Mothering Sunday or Mother's Day
Victoria Day 
Earth Day
June, July, August 
Father's Day
The Summer Solstice
Dragon Boat Racing
Canada Day
Louis Riel Day
Festival of Freedom or Emancipation Day
Hiroshima Day
Heritage Festivals


***********************************************************************************
Follow us on:
---
---