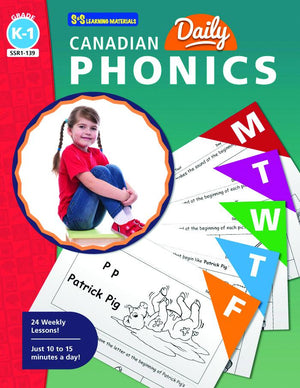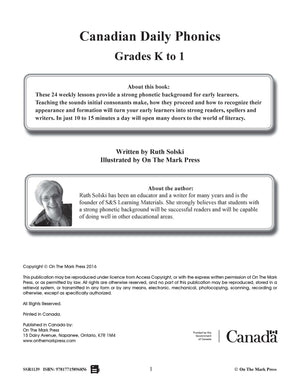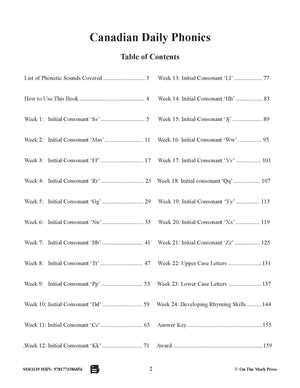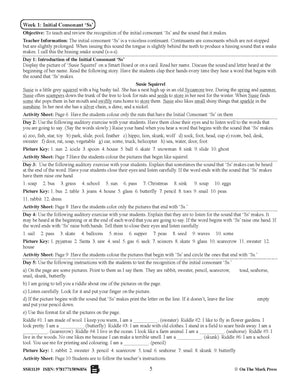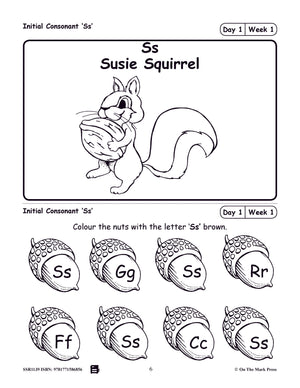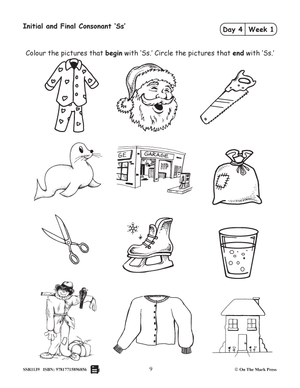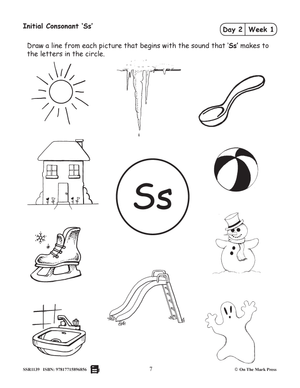 Canadian Daily Phonics Grades K-1 - Initial Consonants
EBR1139
Daily Phonics provides an introduction to the initial consonants in the alphabet.
24 weekly lessons
provide a strong phonetic background for early learners. Teaching the sounds initial consonants make, how they proceed, and how to recognize their appearance and formation will turn your early learners into strong readers, spellers, and writers. Just 10 to 15 minutes a day will open many doors to the world of literacy.
Weekly step by step instruction for the teacher with NO PREP worksheets for the students. Everything you need for a new teacher or a seasoned teacher teaching a new grade or looking for new ideas!
Weekly Lesson Plans for Initial Consonants:
Each week has a set of daily lesson plans.

Teacher information is provided for the production of each sound and its formation.

Stories are provided for introductions along with consonant picture cards.

Auditory exercises and games are included.

A picture key is provided for sound and letter identification.

Daily Worksheets are included.

Each week has a prepared test for the evaluation of students' progress.
Each week includes an activity a day:

Day 1: To reinforce the recognition of the initial consonant and the sound that it makes.

Day 2: Recognition of the initial consonant's sound at the beginning of objects.

Day 3: Review new and previously taught initial consonants.

Day 4: Review of the letter recognition of sounds previously taught

Day 5: Auditory/Visual Discrimination Test of All Sounds Previously Taught
Students learn to recognize the initial consonant sounds in the
order of their difficulty.
Each week a new initial consonant is introduced and previously taught consonants and their sounds are reviewed.
Week 1: Initial Consonant 'Ss'
Week 2: Initial Consonant 'Mm'
Week 3: Initial Consonant 'Ff'
Week 4: Initial Consonant 'Rr'
Week 5: Initial Consonant 'Gg'
Week 6: Initial Consonant 'Nn'
Week 7: Initial Consonant 'Bb'
Week 8: Initial Consonant 'Tt'
Week 9: Initial Consonant 'Pp'
Week 10: Initial Consonant 'Dd'
Week 11: Initial Consonant 'Cc'
Week 12: Initial Consonant 'Kk'
Week 13: Initial Consonant 'Ll'
Week 14: Initial Consonant 'Hh'
Week 15: Initial Consonant 'Jj'
Week 16: Initial Consonant 'Ww'
Week 17: Initial Consonant 'Vv'
Week 18: Initial consonant 'Qq'
Week 19: Initial Consonant 'Yy'
Week 20: Initial Consonant 'Xx'
Week 21: Initial Consonant 'Zz'
Week 22: Upper Case Letters
Week 23: Lower Case Letters
Week 24: Developing Rhyming Skills
You may also like:
Other Kindergarten resources to check out!
Subscribe to our Fan List!: Our FANlist newsletter is full of tips on ways to save time with our resources, exclusive sales, new product info and free monthly downloads – you won't want to miss out!
Follow us on:
---
---