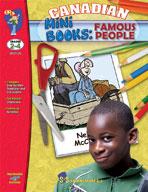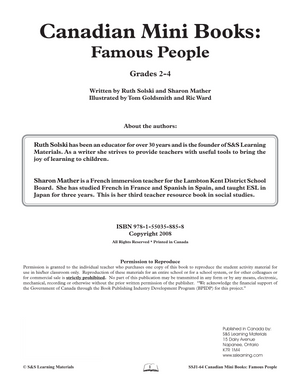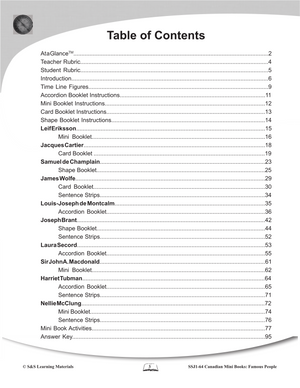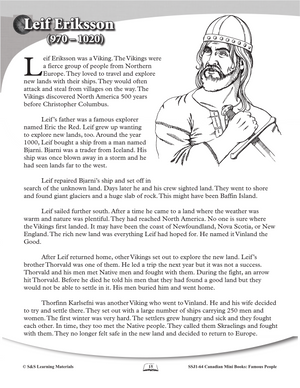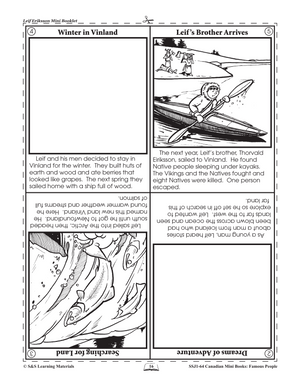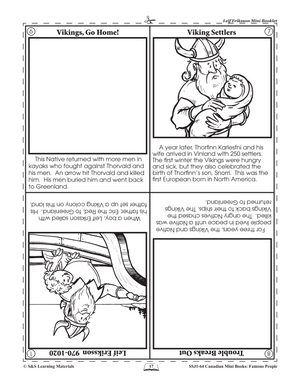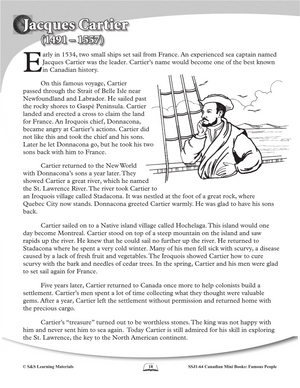 Canadian Mini-Books: Famous People Grades 2-4 Canadian History
EBJ164
Additional information:
Author

:

Solski, Ruth/Mather, Sharon
Ten reproducible reading booklets pertaining to famous figures that played an important role in Canada's history and development.
This resource gives your students a chance to create their own books of various styles while learning about some of the most interesting Canadians ever.
Students benefit from this approach in several ways. Their involvement in developing
the reading material provides added motivation to enjoy and appreciate the content.
In addition, the manipulation of the booklets provides added interaction with the text.
Interaction is further enhanced in two ways. Each page of every booklet has a statement
that tells the story of the historical character. Some statements are illustrated and some are not, allowing students the opportunity to visually interpret text and assist in the creation of the story. Some of the booklets have illustrated pages for which students must select from a bank of statements and cut and paste the most appropriate words to accompany the images.
There are four different styles of booklets.  

The bulk of the book is organized by historical figure. Each section includes one to
two pages of information on the figure. These information pages can be used as teacher
information, read together as a whole group exercise, or assigned to individuals. Note that the reading level for these information pages is between grades three and six, so care must be taken to match reading level with student ability. The mini booklets themselves are designed for grades two to four.
Booklets for these Famous Canadians:
Lief Eriksson
Jacques Cartier
Samuel de Champlain
James Wolfe
Louis-Joseph de Montcalm
Joseph Brant
Laura Secord
Sir John A. Macdonald
Harriet Tubman
Nellie McClung
Illustrated information sheets accompany each booklet. Grade appropriate sentences on each page tell the story of these famous people and professional line drawings bring the subjects to life.
Students are given plenty of opportunities to interact with the historical characters as they create their own illustrations, or cut and paste information into their books to match the drawings.
The final pages of the book contain a series of activities designed for further use with the mini books to encourage interaction with the finished product, to draw out specific reading comprehension and social studies skills, and to serve as assessment opportunities. 97 pages.
 ***********************************************************************************
Follow us on:
---
---