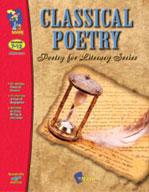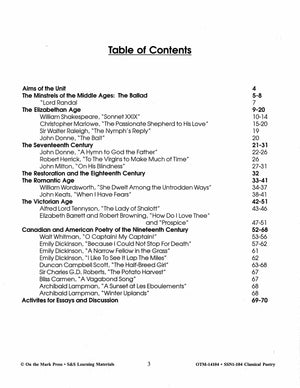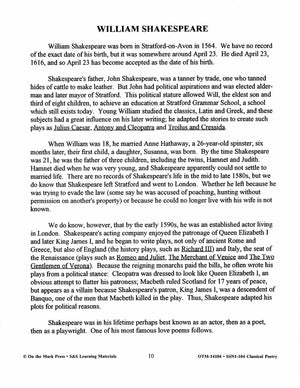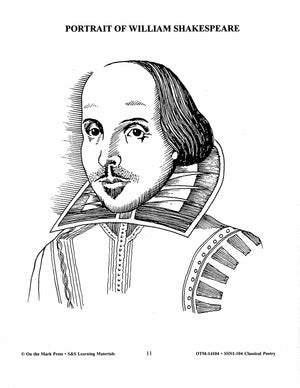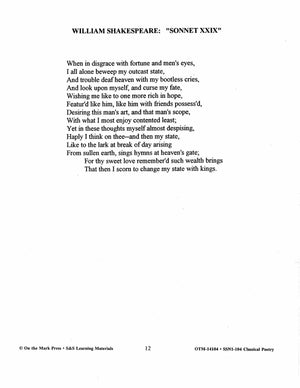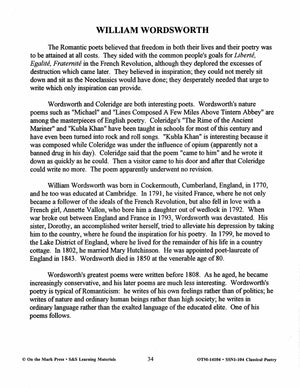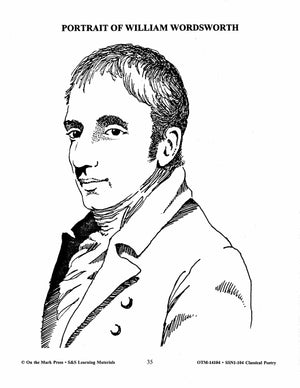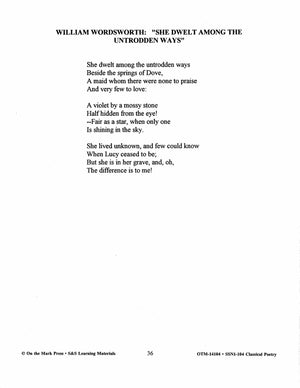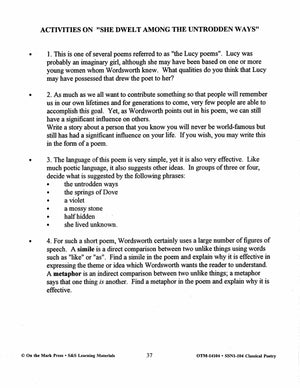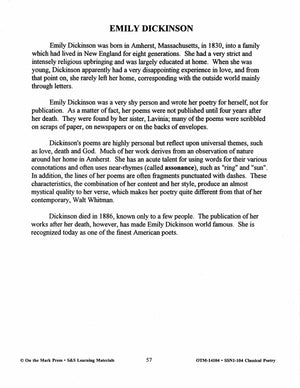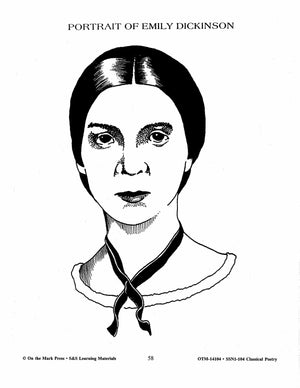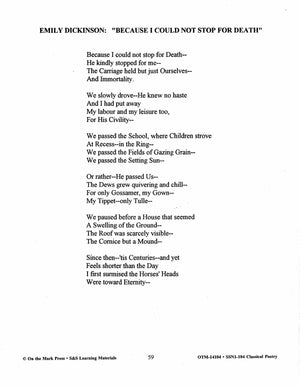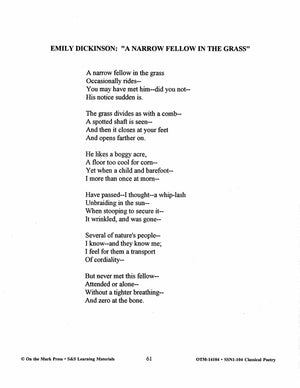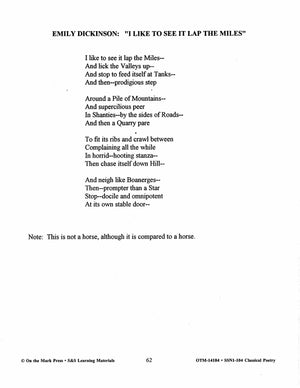 Classical Poetry from the Elizabethan Age to the Nineteenth Century Grades 7-12
EBOTM14104
Share the poetry written by many of the important poets of the English language from the Elizabethan Age to the Nineteenth Century with your students.
This resource presents a background to each of the major periods of writing, a biography of the particular poet, a portrait of the poet, a representative poem, activities and suggestions for further reading. 70 pages
Activities can be completed independently or in small groups.
20+ Ballads, Poems & Sonnets and 10+ Portraits of Poets & Biographies.
Poets & Their Works:


The Minstrels of the Middle Ages: The Ballad

The Elizabethan Age

William Shakespeare, "Sonnet XXIX"

Christopher Marlowe, "The Passionate Shepherd to His Love" Sir Walter Raleigh, "The Nymph's Reply"

John Donne, "The Bait"
The Seventeenth Century

John Donne, "A Hymn to God the Father"

Robert Herrick, "To The Virgins to Make Much of Time"

John Milton, "On His Blindness"
The Restoration and Eighteenth Century
The Romantic Age
William Wordsworth, "She Dwelt Among the Untrodden Ways

John Keats, "When I Have Fears"
The Victorian Age

Alfred Lord Tennyson, "The Lady of Shalott"

Elizabeth Barrett and Robert Browning, "How Do I Love Thee" and "Prospice"
Canadian and American Poetry of the Nineteenth Century

Walt Whitman, "O Captain! My Captain!"

Emily Dickinson, "Because I Could Not Stop For Death"

Emily Dickinson, "A Narrow Fellow in the Grass"

Emily Dickinson, "I Like To See It Lap The Miles"

Duncan Campbell Scott, "The Half-Breed Girl"

Sir Charles G.D. Roberts, "The Potato HaNest"

Bliss Carmen, "A Vagabond Song"

Archibald Lampman, "A Sunset at Les Eboulements"

Archibald Lampman, "Winter Uplands"
---
---