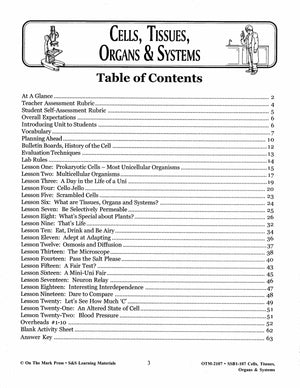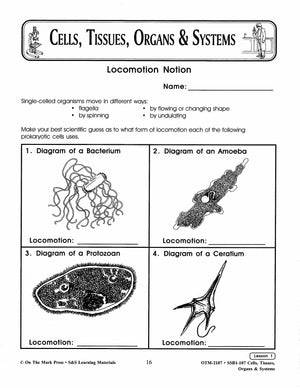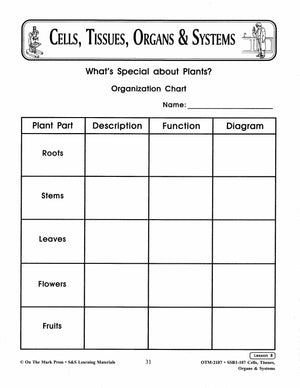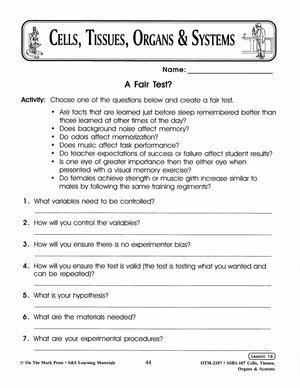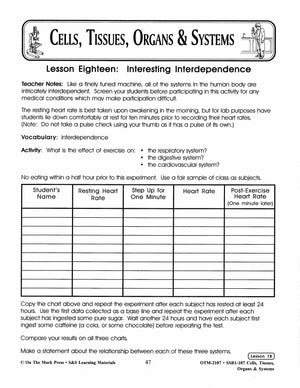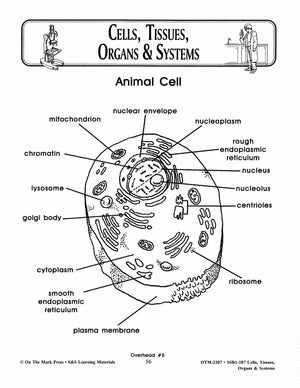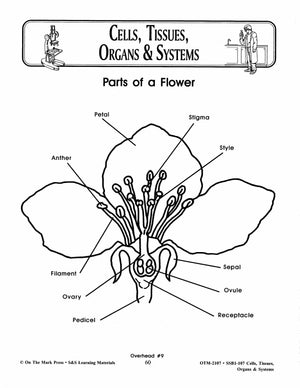 Cells, Tissues & Organ Systems Grades 7-8
EBOTM2107
Take a Fresh Approach to this Tricky Topic! Focus on the structure and function of cells into tissues and organ systems. Students will recognize the major organs of the body and know their function, use appropriate vocabulary and describe explorations and observations, and identify the structural differences between plant and animal cells. 64 pages including an answer key.
 Overall Expectations
• Students will become familiar with the differences between unicellular and multicellular plant and animal cells.

• Students will have the opportunity to experience experimental design, procedure and analysis.

• Students will have the opportunity to explore the various structures involved in cellular life and the effects of outside influences upon these structures.

• Students will have the opportunity to reflect upon the importance of scientific inquiry to human health.

For the Teacher:

At A Glance 
Teacher Assessment Rubric
Student Self-Assessment Rubric
Overall Expectations
Introducing Unit to Students
Vocabulary
Planning Ahead 
Bulletin Boards, History of the Cell 
Evaluation Techniques
Over Heads 1-10
Blank Activity Sheet
Answer Key
For the Students:
Lab Rules
Lesson One: Prokaryotic Cells - Most Unicellular Organisms
Lesson Two: Multicellular Organisms 
Lesson Three: A Day in the Life of a Uni
Lesson Four: Cello Jello
Lesson Five: Scrambled Cells
Lesson Six: What are Tissues, Organs and Systems?
Lesson Seven: Be Selectively Permeable
Lesson Eight: What's Special about Plants?
Lesson Nine: That's Life
Lesson Ten: Eat, Drink and Be Airy
Lesson Eleven: Adept at Adapting
Lesson Twelve: Osmosis and Diffusion
Lesson Thirteen: The Microscope
Lesson Fourteen: Pass the Salt Please
Lesson Fifteen: A Fair Test?
Lesson Sixteen: A Mini-Uni Fair
Lesson Seventeen: Neuron Relay
Lesson Eighteen: Interesting Interdependence
Lesson Nineteen: Dare to Compare
Lesson Twenty: Let's See How Much 'C'
Lesson Twenty-One: An Altered State of Cell
Lesson Twenty-Two: Blood Pressure
This book supports many of the fundamental concepts and learning outcomes from the curriculum's for these provinces: Ontario, Grade 8 Science, Understanding Life Systems, Cells; British Columbia, Grade 7, Science, Life Science, Diversity of Life; Manitoba, Grade 8, Science, Cluster 1, Cells & Systems; Saskatchewan, Grade 8, Science, Life Science, Cells, Tissues, Organs & Systems.
You may also like:
Canadian Daily Language Activities
Canadian Math Google Slide Activities
Science Google Slide Activities
Subscribe to our Fan List!: Our FANlist newsletter is full of tips on ways to save time with our resources, exclusive sales, new product info and free monthly downloads – you won't want to miss out!
Follow us on:
---
---