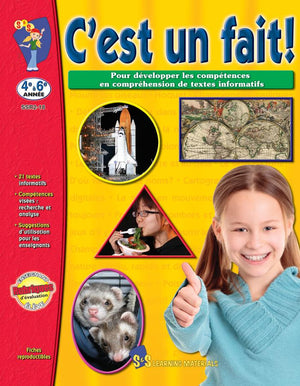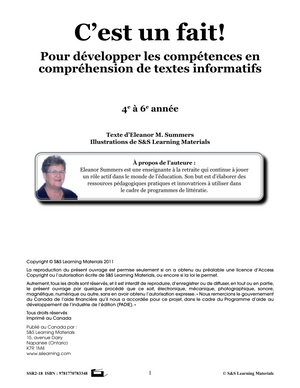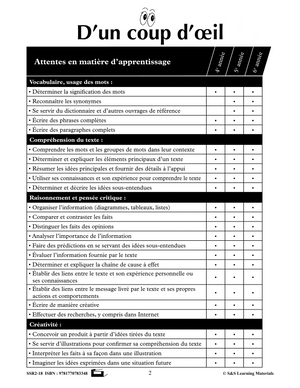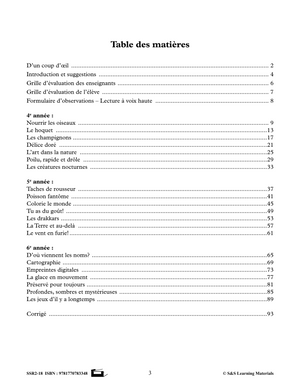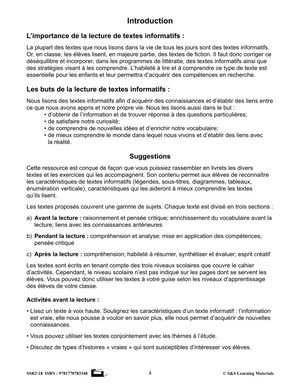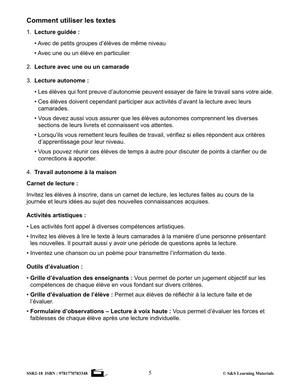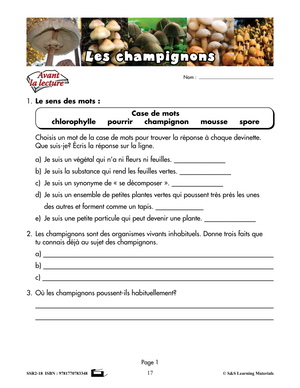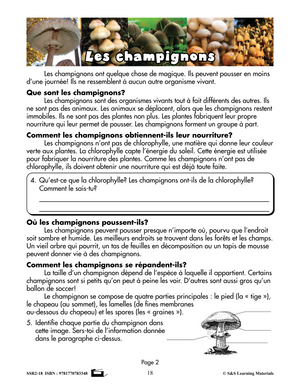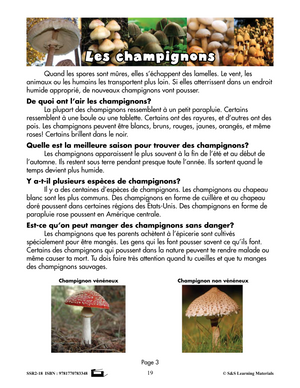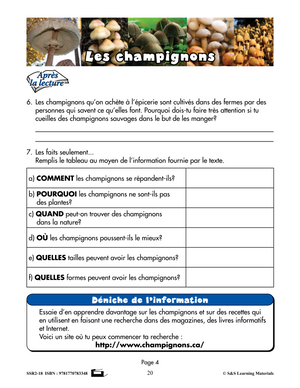 C'est un fait! Compréhension de textes informatifs 4e à 6e année
EBR218
Additional information:
Author

:

Summers, Eleanor M.
La plupart des programmes de littératie mettent l'accent sur des textes de fiction bien que, dans notre quotidien, nous lisions principalement des textes informatifs.
Les nombreux textes informatifs de ce cahier vous aideront à corriger ce déséquilibre et permettront vos élèves d'approfondir leurs compétences en recherche et en analyse. Les textes touchent trois niveaux de lecture.
Ils sont donc appropriés tant pour des élèves qui sont au-dessous du niveau de compétence établi que pour ceux qui l'ont déjà atteint.
Chaque texte comporte trois parties: Avant la lecture, qui permet aux élèves de développer leurs habiletés de raisonnement et de pensée critique, et d'enrichir leur vocabulaire.
Pendant la lecture, qui leur permet de développer leurs habiletés de compréhension, d'analyse, d'esprit critique et de mise en application des connaissances. Après la lecture, qui met l'accent sur les habiletés comprendre, résumer, faire une synthèse et évaluer. 96 pages
4e année :

Nourrir les oiseaux

Le hoquet

Les champignons

Délice doré

L'art dans la nature

Poilu, rapide et drôle

Les créatures nocturnes
5e année :

Taches de rousseur

Poisson fantôme

Colorie le monde

Tu as du goût!

Les drakkars

La Terre et au-delà

Le vent en furie!
6e année :

D'où viennent les noms?

Cartographie

Empreintes digitales

La glace en mouvement

Préservé pour toujours

Profondes, sombres et mystérieuses

Les jeux d'il y a longtemps 
 Here is what teachers are saying about this resource:
 This provided some easy-to-use, no-prep comprehension activities. Thank you! Cindy B, 5 out of 5
Thank you for this resource, a good variety of texts to choose from. Tanya B, 5 out of 5
Other French Titles you may like
Subscribe to our Fan List!: Our FANlist newsletter is full of tips on ways to save time with our resources, exclusive sales, new product info and free monthly downloads – you won't want to miss out!
Follow us on:
---
---