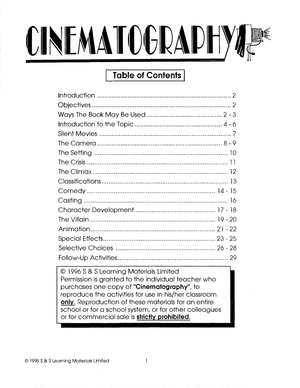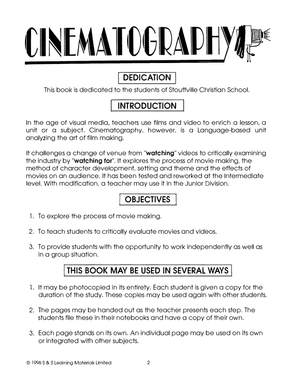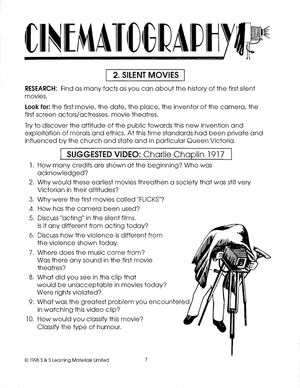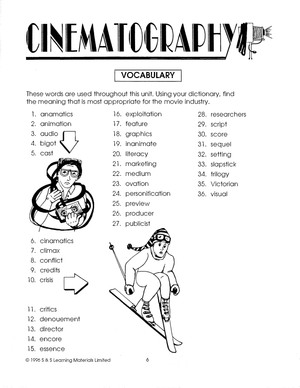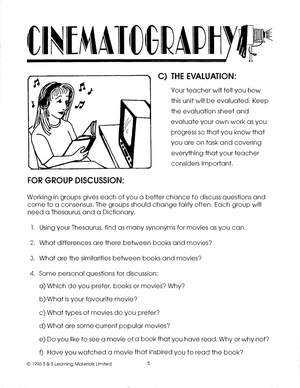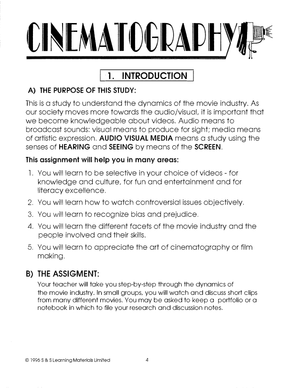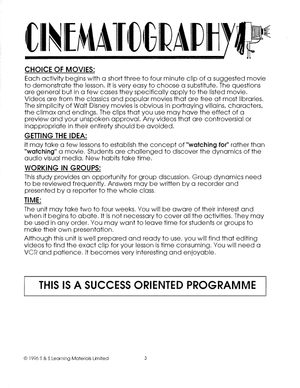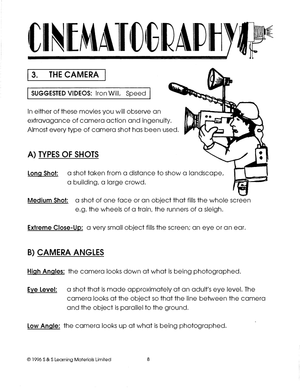 Cinematography Grades 7-8
EBG106
Cinematography is the art of film making. Use the exercises in this resource to teach media literacy and provide analysis of the story elements, technology, and other aspects of film making that make this medium so popular. Students will enjoy analyzing, among other things, villains and special effects!
In the age of visual media, teachers use films and video to enrich a lesson, a unit or a subject. Cinematography, however, is a Language-based unit analyzing the art of film making.
It challenges a change of venue from "watching" videos to critically examining the industry by "watching for". It explores the process of movie making, the method of character development, setting and theme and the effects of movies on an audience. It has been tested and reworked at the Intermediate level. With modification, a teacher may use it in the Junior Division.
l. To explore the process of movie making.
2. To teach students to critically evaluate movies and videos.
3. To provide students with the opportunity to work independently as well as in a group situation.
A) THE PURPOSE OF THIS STUDY:
This is a study to understand the dynamics of the movie industry. As our society moves more towards the audio/visual, it is important that we become knowledgeable about videos. Audio means to broadcast sounds: visual means to produce for sight; media means of artistic expression. AUDIO VISUAL MEDIA means a study using the senses of HEARING and SEEING by means of the SCREEN.
THIS BOOK MAY BE USED IN SEVERAL WAYS
l. It may be photocopied in its entirety. Each student is given a copy for the duration of the study. These copies may be used again with other students.
2. The pages may be handed out as the teacher presents each step. The students file these in their notebooks and have a copy of their own.
3. Each page stands on its own. An individual page may be used on its own or integrated with other subjects.
CHOICE OF MOVIES:
Each activity begins with a short three to four minute clip of a suggested movie to demonstrate the lesson. It is very easy to choose a substitute. The questions are general but in a few cases they specifically apply to the listed movie. Videos are from the classics and popular movies that are free at most libraries. The simplicity of Walt Disney movies is obvious in portraying villains, characters, the climax and endings. The clips that you use may have the effect of a preview and your unspoken approval. Any videos that are controversial or inappropriate in their entirety should be avoided.
GETTING THE IDEA:
It may take a few lessons to establish the concept of "watching for" rather than "watching" a movie. Students are challenged to discover the dynamics of the audio visual media. New habits take time.
WORKING IN GROUPS:
This study provides an opportunity for group discussion. Group dynamics need to be reviewed frequently. Answers may be written by a recorder and presented by a reporter to the whole class.
TIME:
The unit may take two to four weeks. You will be aware of their interest and when it begins to abate. It is not necessary to cover all the activities. They may be used in any order. You may want to leave time for students or groups to make their own presentation.
Although this unit is well prepared and ready to use, you will find that editing videos to find the exact clip for your lesson is time consuming.
 You may also like!
Canadian Daily Language Activities
Canadian Math Google Slide Activities
Subscribe to our Fan List!: Our FANlist newsletter is full of tips on ways to save time with our resources, exclusive sales, new product info and free monthly downloads – you won't want to miss out!
Follow us on:
---
---