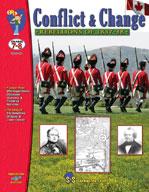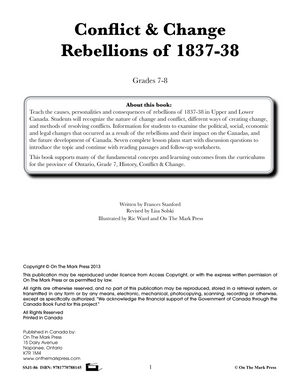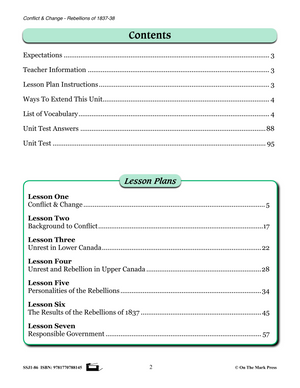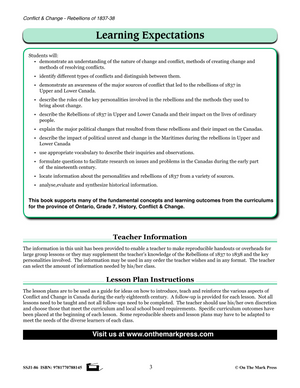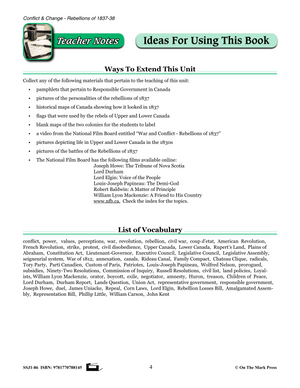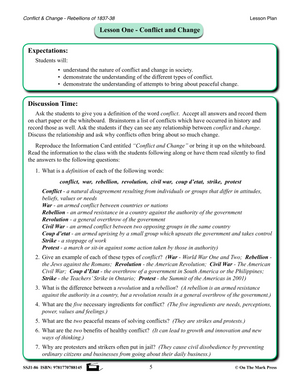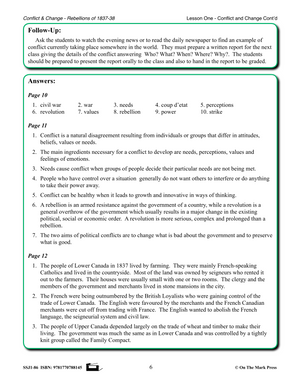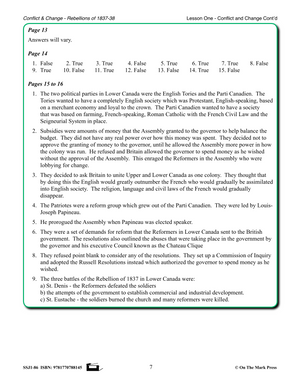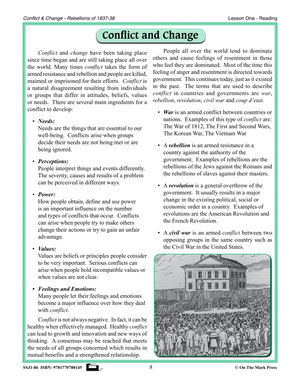 Conflict & Change - Rebellions of 1837-38 Grades 7-8 Upper & Lower Canada
EBJ186
Additional information:
Author

:

Stanford, Frances
Teach the causes, personalities, and consequences of rebellions of 1837-38 in Upper and Lower Canada. Students will recognize the nature of change and conflict, different ways of creating change, and methods of resolving conflicts.
Information for students to examine the political, social, economic and legal changes that occurred as a result of the rebellions and their impact on the Canada's, and the future development of Canada.
Seven complete lesson plans begin with discussion questions to introduce the topic and continue with reading passages and follow-up worksheets.
For the Teacher:
Learning Expectations
Teacher Information
Lesson Plan Instructions
Ways To Extend This Unit
List of Vocabulary
Unit Test Answers
Unit Test
Lesson Plans

Lesson One Conflict & Change
Lesson Two Background to Conflict
Lesson Three Unrest in Lower Canada
Lesson Four Unrest and Rebellion in Upper Canada
Lesson Five Personalities of the Rebellions
Lesson Six The Results of the Rebellions of 1837
Lesson Seven Responsible Government 
Students will:

demonstrate an understanding of the nature of change and conflict, methods of creating change and methods of resolving conflicts.
identify different types of conflicts and distinguish between them.
demonstrate an awareness of the major sources of conflict that led to the rebellions of 1837 in Upper and Lower Canada.
describe the roles of the key personalities involved in the rebellions and the methods they used to bring about change.
describe the Rebellions of 1837 in Upper and Lower Canada and their impact on the lives of ordinary people.
explain the major political changes that resulted from these rebellions and their impact on the Canadas.
describe the impact of political unrest and change in the Maritimes during the rebellions in Upper and Lower Canada
use appropriate vocabulary to describe their inquiries and observations.
formulate questions to facilitate research on issues and problems in the Canadas during the early part of the nineteenth century.
locate information about the personalities and rebellions of 1837 from a variety of sources
analyse, evaluate and synthesize historical information
 This book supports many of the fundamental concepts and learning outcomes from the curriculums for the province of Ontario, Grade 7, History, Conflict & Change.
---
---