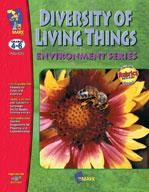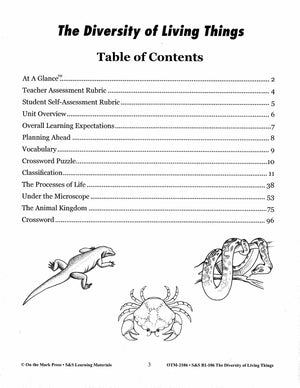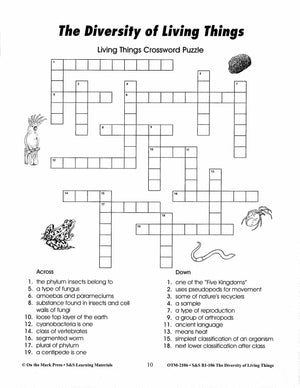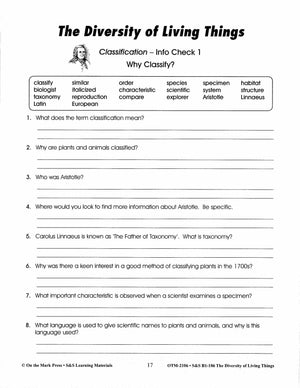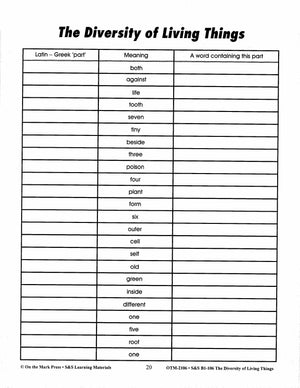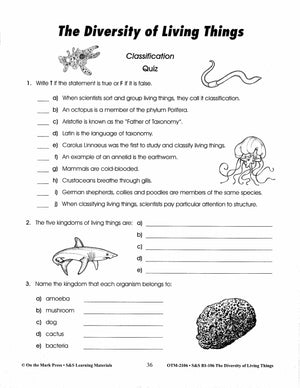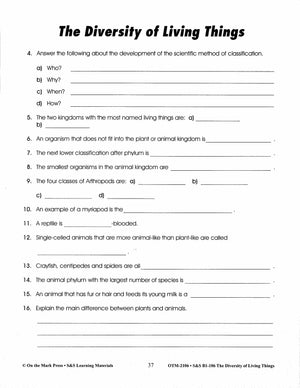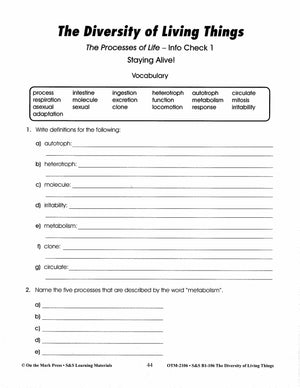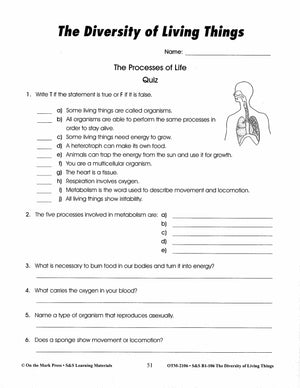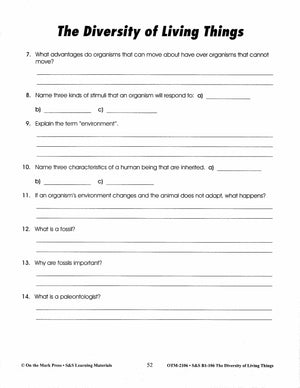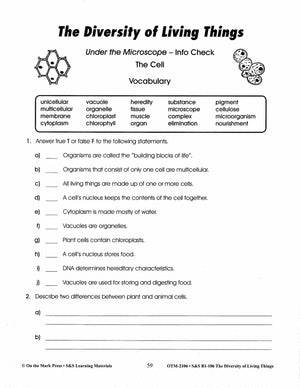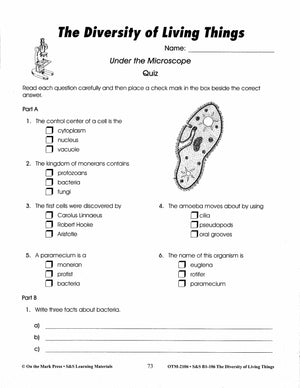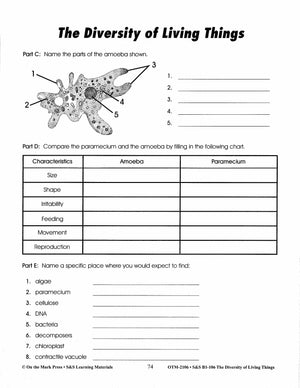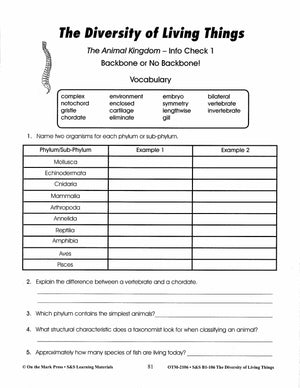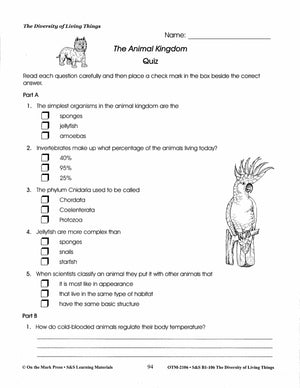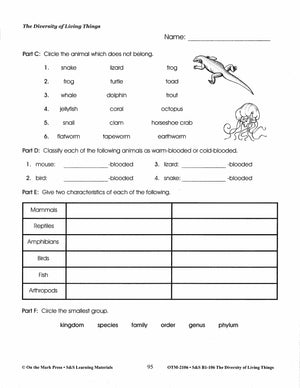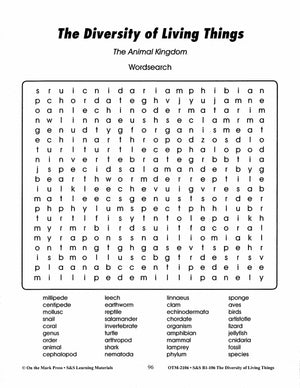 Diversity of Living Things Grades 4-6
EBOTM2106
Help your students take a closer look at the world around  them. The topics in each component, as well as the components themselves, are best covered sequentially, however, each component may be used alone. At the beginning of each component is a brief overview of the component, the learning expectations for the activities, and suggestions for implementing the activities. The implementation suggestions are presented as ideas only. It is not intended that any or all need be implemented to use the activity pages. At the end of each component is a two-page quiz. Many of the activities can be integrated into other areas of the curriculum.
This resource is divided into four categories:
classification
processes of life
under the microscope
the animal kingdom
Students will classify organisms and observe the similarities and differences among them.
Integrated across the curriculum, these 45 activities focus on science, language arts, social studies, and art.
Includes skill lists, teacher suggestions, resource lists, evaluation sheets, and an answer key. 96 pages
Overall Learning Expectations The students will:
Explain why formal classification systems are usually based on structural characteristics rather than on physical appearance or behavioral characteristics.
Identify various kinds of classification systems that are based on specific criteria and used to organize information.
Identify inherited characteristics and learned or behavioral characteristics.
Explain why some characteristics related to physical appearance (i.e., size, shape, color, texture) or behavior are not suitable attributes for classifying living things.
Identify various kinds of plant or animal organisms in a given sample using identification keys.
Describe specific characteristics or adaptations that enable each group of vertebrates to live in its particular habitat and explain the importance of maintaining that habitat for the survival of the species.
Explain how fossils provide evidence of changes in animals over geological time.
Compare similarities and differences between fossils and animals of the present.
Identify and describe the characteristics of vertebrates and use these characteristics to classify vertebrates as mammals, birds, amphibians, reptiles and fish.
Identify and describe the characteristics of invertebrates and classify invertebrates into phyla (i.e., sponges, worms, mollusks, arthropods).
Compare the characteristics of vertebrates and invertebrates.
Compare the characteristics of different kinds of arthropods.
Describe microscopic living things using appropriate tools.
Describe ways in which microorganisms meet their basic needs (i.e., for food, water, etc.).
Formulate questions about and identify the needs of different types of animals. Explore possible answers to these questions and ways of meeting these needs.
Use appropriate vocabulary and science terminology when describing investigations, explorations and observations.
Compile data gathered through investigation, in order to record and present results, using tally charts, tables, and graphs.
Communicate the procedures and results of investigations.
This book supports many of the fundamental concepts and learning outcomes from the curriculum for these provinces: British Columbia, Grade 6, Science, Life Science, Diversity of Life, Grade 7, Science, Life Science, Ecosystems; Manitoba, Grade 6, Science, Cluster 1, Diversity of Living Things; Ontario, Grade 6, Science, Understanding Life Systems, Biodiversity; Saskatchewan, Grade 6, Science, Life Science, Diversity of Living Things.
 You may also like:
Canadian Daily Language Activities
Canadian Math Google Slide Activities
Science Google Slide Activities
Subscribe to our Fan List!: Our FANlist newsletter is full of tips on ways to save time with our resources, exclusive sales, new product info and free monthly downloads – you won't want to miss out!
Follow us on:
---
---