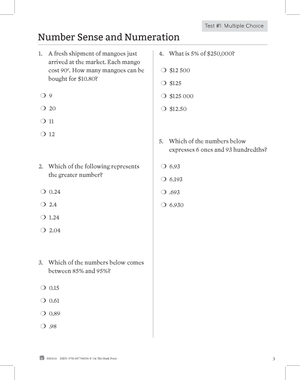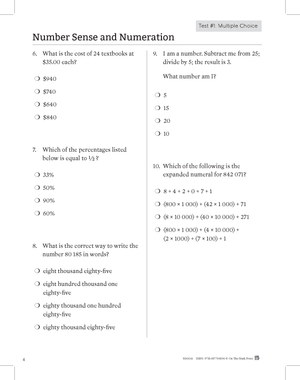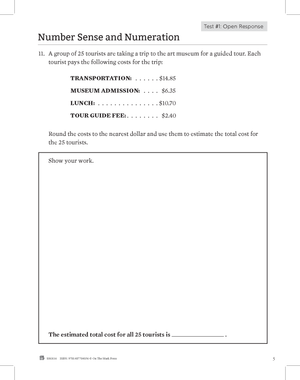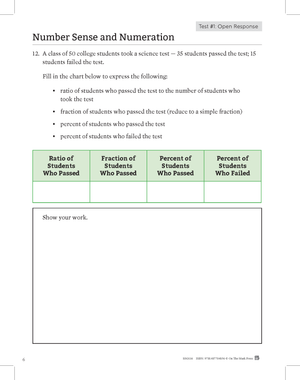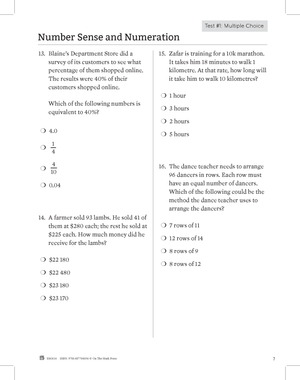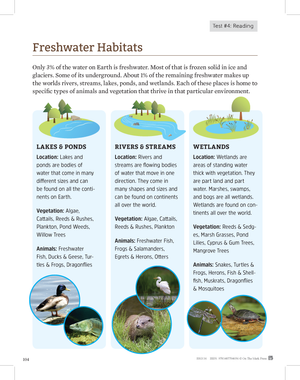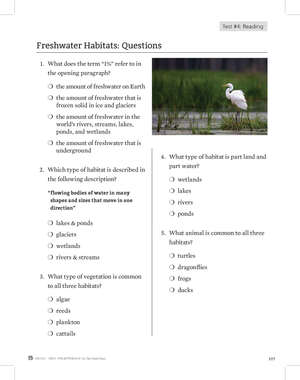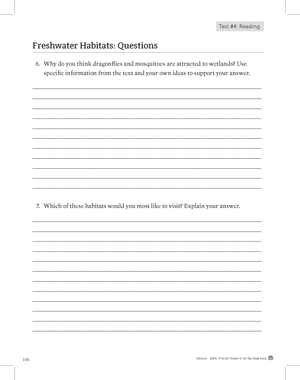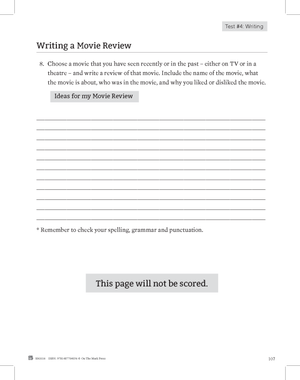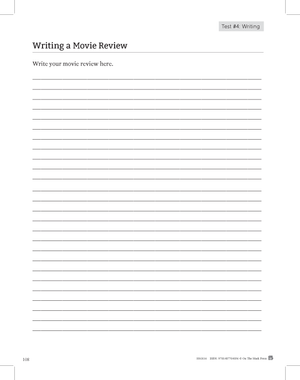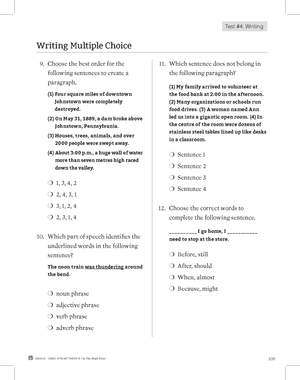 EQAO Grade 6 Math & Language Test Prep Guide
EBG116
20 tests to help prepare you Grade 6 students for the EQAO Mathematics & Language Assessment tests and increase their confidence with test taking!
The 10 practice tests were designed to be similar to the actual test the students will be taking. The questions are either multiple choice or open response so that students can get familiar with the question/answer format.
The first 5 tests each feature a different key math skill for targeted practice: number sense & numeration, patterning & algebra, measurement, geometry & spatial sense, and data management & probability. Students struggling in any of these areas will benefit from this skill-specific practice.
The following 5 tests feature mixed math skills with questions that are a combination of all the math skills.
There is no particular sequence to the tests. They can be used in whatever order you choose to fit your student's needs.
The 10 tests have been designed to be very similar to the actual test the students will be taking. Many of the questions are asked in a similar way so that students can get familiar with the questioning format.
Students will encounter different types of reading experiences as they make their way through the various tests including fiction and nonfiction stories, a newspaper article, a friendly letter, poetry, and informational text. They will then be asked to answer corresponding multiple choice and open response questions.
There is also plenty of writing practice as students are asked to write sentences, paragraphs, short stories, instructions, a description, a movie review, a poem, a letter, and a newspaper article.
There are also multiple-choice questions featuring essential grammar and writing skills.
160 pages including an answer key.
MATH TEST #1: Number Sense and Numeration
MATH TEST #2: Patterning and Algebra
MATH TEST #3: Measurement
MATH TEST #4: Geometry and Spatial Sense
MATH TEST #5: Data Managements and Probability
MATH TEST #6: Mixed Math Skills
MATH TEST #7: Mixed Math Skills
MATH TEST #8: Mixed Math Skills
MATH TEST #9: Mixed Math Skills
MATH TEST #10: Mixed Math Skills
MATH ANSWER KEY
LANGUAGE TEST #1: The Hired Hand
LANGUAGE TEST #2: A Friendly Letter
LANGUAGE TEST #3: Dealing With Failure
LANGUAGE TEST #4: Freshwater Habitats
LANGUAGE TEST #5: The Dog and the Shadow
LANGUAGE TEST #6: The Castle that Love Built
LANGUAGE TEST #7: Local Girl Earns Medal for Volunteering
LANGUAGE TEST #8: Grandma's Secret
LANGUAGE TEST #9: The History of Some Popular Foods
LANGUAGE TEST #10: Early Aviators
LANGUAGE ANSWER KEY
What teachers are saying about this resource!
This was the perfect way to prepare my students for EQAO! Each day we focused on one test and practiced the skills. This really helped them feel prepared. Rachael G.
Many great resources similar to the previous EQAO series which is useful to help build an understanding for the upcoming testing. Stephanie K.
Great classroom resource and can be used very easily with students. Catherine C.
LOVE AND HIGHLY RECOMMEND !!! Sandra G.
---
---