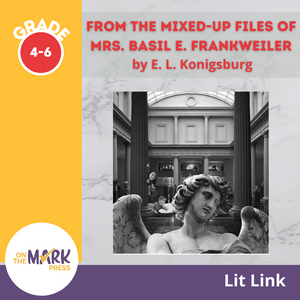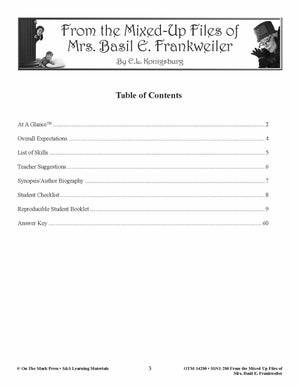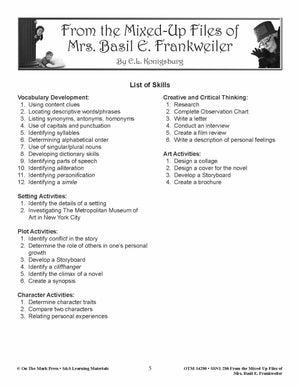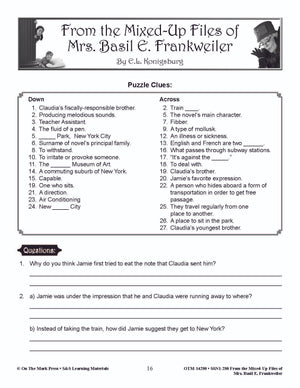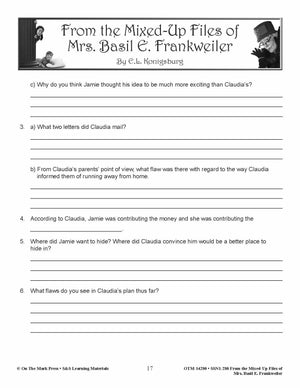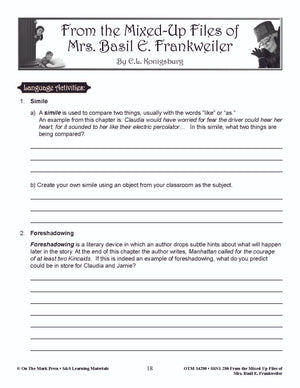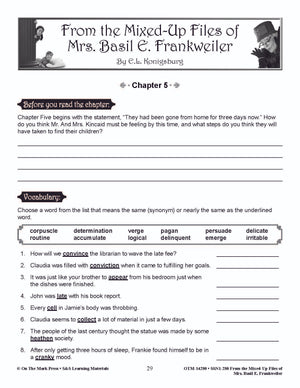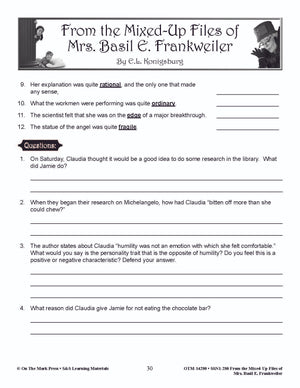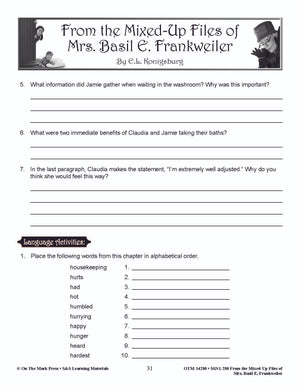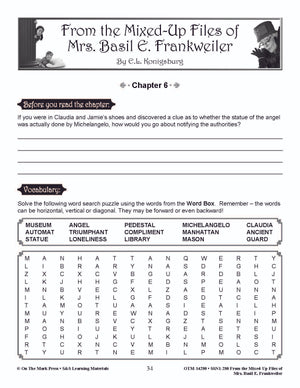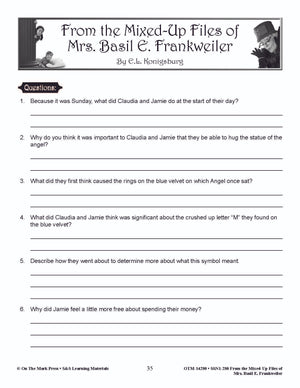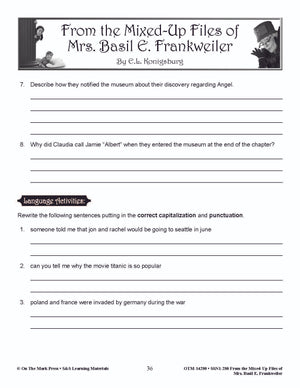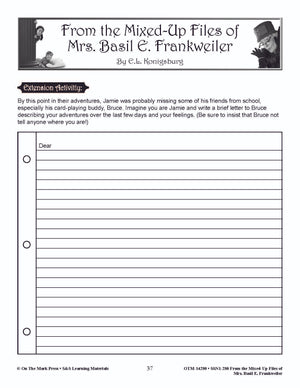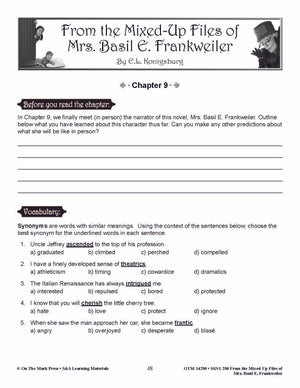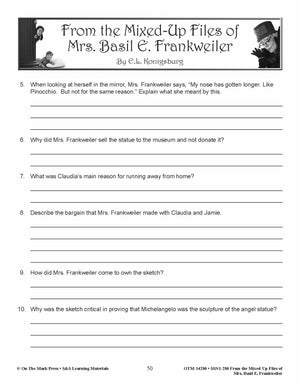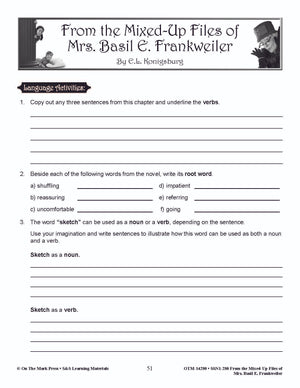 From the Mixed-Up Files of Mrs. Basil E. Frankweiler Lit Link Grades 4-6
EBOTM14280
The adventures of Claudia Kincaid, a precocious 11-year-old, and her younger brother at a national museum and a grand mansion will motivate your students' interest while completing the various activities in this Lit Link.

About The Novel: Claudia Kincaid is a young girl who feels she is under-appreciated by her parents and decides to run away from home and set up temporary residence in the Metropolitan Museum of Art in New York City. There they encounter a beautiful statue of an angel with mysterious origins. The children decide to make it their mission to discover the true origins of this masterpiece.
Chapter-by-chapter questions will strengthen students' reading comprehension and assist them in developing critical thinking and emotional development.
The vocabulary and word study activities are designed to improve literacy skills in an enjoyable way. 64 pages including an answer key.
A novel by E.L.Konigsburg.
Overall Expectations
The students will:
• develop their skills in reading, writing, listening, and oral communication.
• use good literature as a vehicle for developing skills required by curriculum expectations: reasoning and critical thinking, knowledge of language structure, vocabulary building, and use of conventions.
• become meaningfully engaged in the drama of literature through a variety of types of questions and activities.
• identify and describe elements of stories (i.e. plot, main idea, characters, setting).
• learn about teamwork and collaboration, personal initiative, finding your special gift(i.e. learning about what makes you special), character development/growth.
• relate events and the feelings of characters found in the novel to their own lives and experiences.
• appreciate the importance of collaboration and friendship in achieving one's goals, and in discovering one's self.
• appreciate that the growth of one's character is often the result of trials.
• learn the importance of dealing with adversity and developing perseverance in the face of difficult experiences.
• state their own interpretation of a written work, using evidence from the novel and from their own knowledge and experience.
List of Skills
Vocabulary Development:
1. Using content clues
2. Locating descriptive words/phrases
3. Listing synonyms, antonyms, homonyms
4. Use of capitals and punctuation
5. Identifying syllables
6. Determining alphabetical order
7. Use of singular/plural nouns
8. Developing dictionary skills
9. Identifying parts of speech
10. Identifying alliteration
11. Identifying personification
12. Identifying a simile
Setting Activities:
1. Identify the details of a setting
2. Investigating The Metropolitan Museum of Art in New York City
Plot Activities:
1. Identify conflict in the story
2. Determine the role of others in one's personal growth
3. Develop a Storyboard
4. Identify a cliffhanger
5. Identify the climax of a novel
6. Create a synopsis
Character Activities:
1. Determine character traits
2. Compare two characters
3. Relating personal experiences
Creative and Critical Thinking:
1. Research
2. Complete Observation Chart
3. Write a letter
4. Conduct an interview
5. Create a film review
6. Write a description of personal feelings
Art Activities:
1. Design a collage
2. Design a cover for the novel
3. Develop a Storyboard
4. Create a brochure
---
---