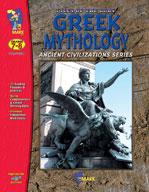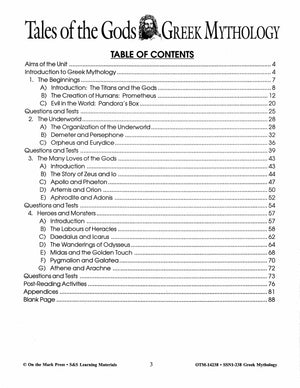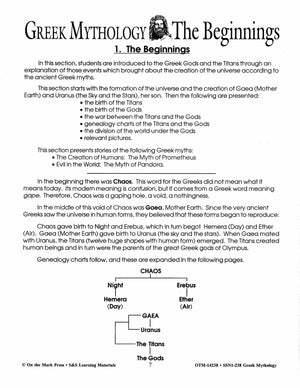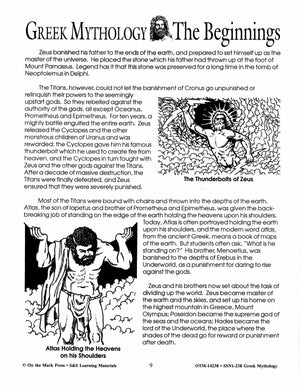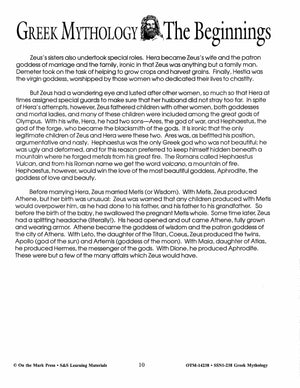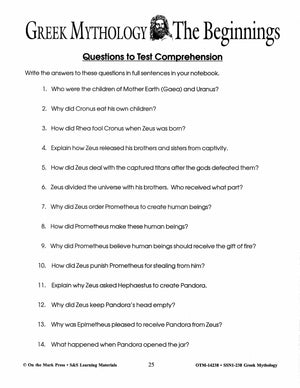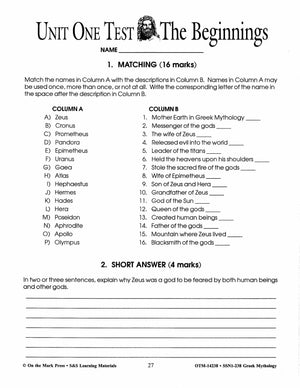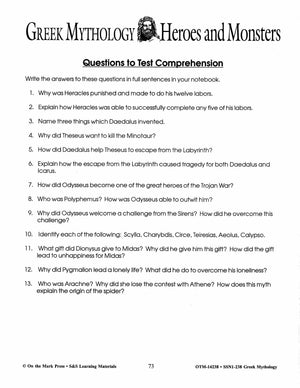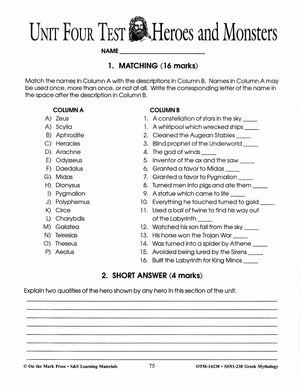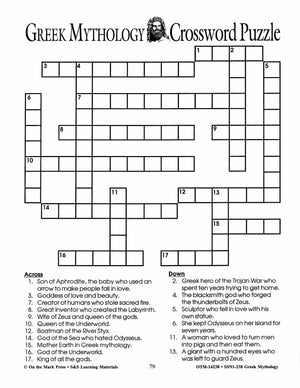 Greek Mythology: Tales of the Gods Grades 7-8
EBOTM14238
Bring the excitement of Greek Mythology to your classroom with this teacher-friendly resource. All of the important Greek myths have been written in a language that your students can understand. Background information on the ancient Greek world and the meaning of mythology provides a framework to stimulate the imagination of all students. Builds comprehension, critical thinking skills, and promotes independent work habits. 35 reading passages and activities. 88 pages including an answer key.

Greek mythology has been taught in English classes for many years, and for good reason.
First of all the stories are very interesting in themselves and offer students a chance to see how less sophisticated people attempted to deal with the questions and the problems of their world.

Secondly, allusions to Greek myths are so commonplace in the works of writers from Shakespeare to the present that a knowledge of the myths themselves is important to an understanding of so many other works of literature.

The major aim of this unit is to provide students with a knowledge of some of the most well-known stories of Greek mythology and an opportunity to analyze the messages contained in the stories.

After a brief introduction to the ancient Greek world and the meaning of mythology, the unit is divided into four sections. Each section contains background information, a retelling of several myths, maps and illustrations, questions to test comprehension and analysis, and a short quiz to test the content. At the end of the unit are several creative activities, writing assignments and a Greek mythology crossword puzzle. The Appendix contains the answers to the quiz questions, a guide to pronunciation of Greek names, and a short review of books and movies available on Greek mythology.

The unit is intended to provide fun for students in a package which is easy for teachers to use.

Topics Include:
Introduction to Greek Mythology 
1. The Beginnings 

A) Introduction: The Titans and the Gods 
B) The Creation of Humans: Prometheus 
C) Evil in the World: Pandora's Box 
Questions and Tests 
2. The Underworld

A) The Organization of the Underworld 
B) Demeter and Persephone
C) Orpheus and Eurydice 
Questions and Tests
3. The Many Loves of the Gods

A) Introduction 
B) The Story of Zeus and lo 
C) Apollo and Phaeton 
D) Artemis and Orion
E) Aphrodite and Adonis 
Questions and Tests 
4. Heroes and Monsters 

A) Introduction
B) The Labours of Heracles 
C) Daedalus and Icarus 
D) The Wanderings of Odysseus 
E) Midas and the Golden Touch 
F) Pygmalion and Galatea 
G) Athene and Arachne
Questions and Tests 
---
---