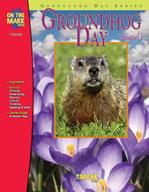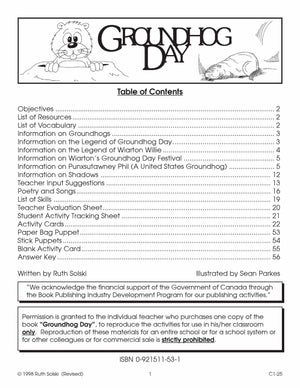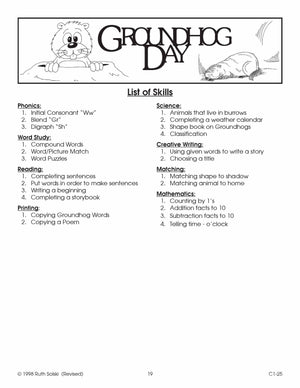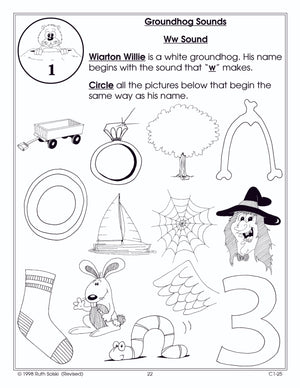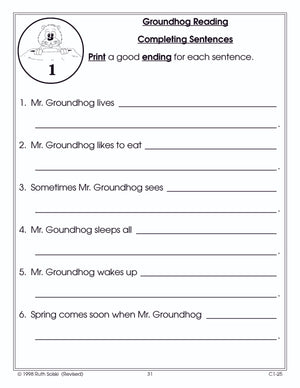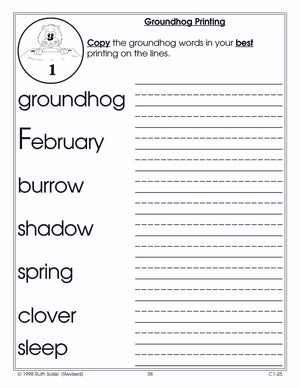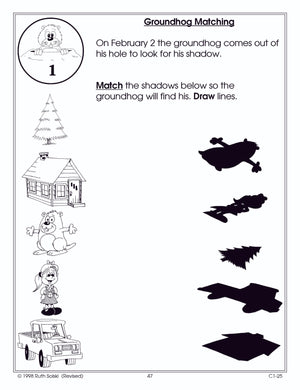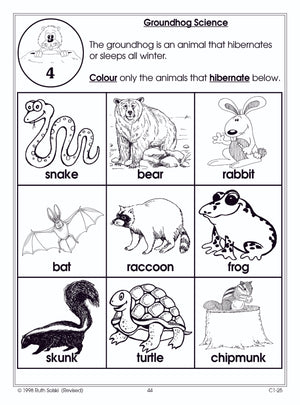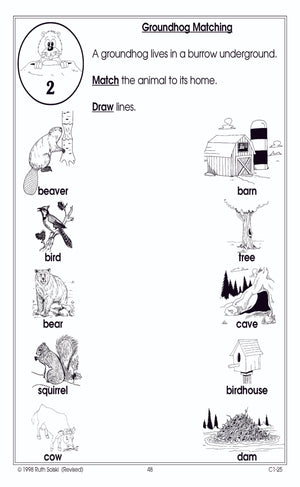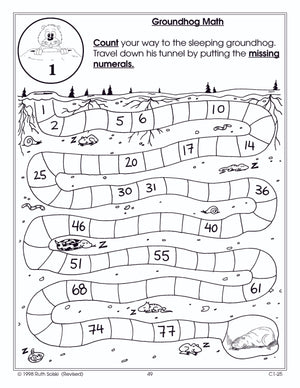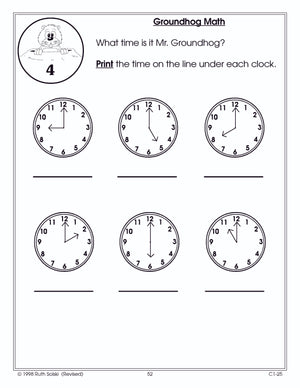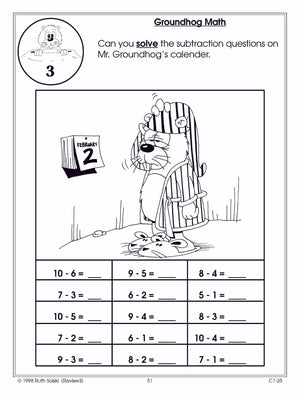 Groundhog Day Grade 1
EBOTM325
24 highly visual NO PREP activities on Groundhog Day, provide a source of fun and excitement for your students as well as a basis for learning a wide range of critical skills in literacy, math, and science. The teacher guide provides background information on the origins of this holiday. Students are invited to explore groundhogs, shadows and the weather.
 Objectives
To provide students with the opportunity to study the mammal - The Groundhog.
To provide students with the opportunity to explore legends and to understand their meanings.
To acquaint students with superstitions and how they are handed down from generation to generation.
To have the students study shadows and experiment with them.
To provide students with the opportunity to learn about Groundhog Day or Candlemas Day and how it is celebrated in North America.
 List of Skills
 Phonics:
1. Initial Consonant "Ww"
2. Blend "Gr"
3. Digraph "Sh"
Word Study:
1. Compound Words
2. Word/Picture Match
3. Word Puzzles
Science:
1. Animals that live in burrows
2. Completing a weather calendar
3. Shape book on Groundhogs
4. Classification
Creative Writing:
1. Using given words to write a story
2. Choosing a title
Reading:

1. Completing sentences
2. Put words in order to make sentences
3. Writing a beginning
4. Completing a storybook
Printing:

1. Copying Groundhog Words
2. Copying a Poem
Matching:
1. Matching shape to shadow
2. Matching animal to home
Mathematics:

1. Counting by 1's
2. Addition facts to 10
3. Subtraction facts to 10
4. Telling time - o'clock
 Contents Included:
Objectives
List of Resources
List of Vocabulary
Information on Groundhogs
Information on the Legend of Groundhog Day
Information on the Legend of Wiarton Willie
Information on Wiarton's Groundhog Day Festival
Information on Punxsutawney Phil (A United States Groundhog)
Information on Shadows
Teacher Input Suggestions
Poetry and Songs
List of Skills
Teacher Evaluation Sheet
Student Activity Tracking Sheet
Activity Cards
Paper Bag Puppet
Stick Puppets
Blank Activity Card
Answer Key
61 pages including an answer key.
---
---