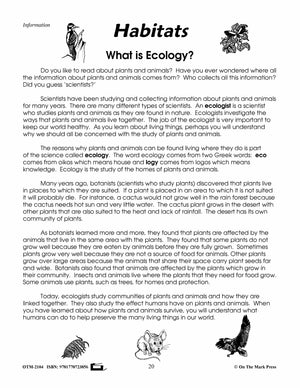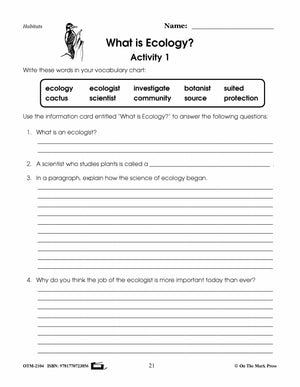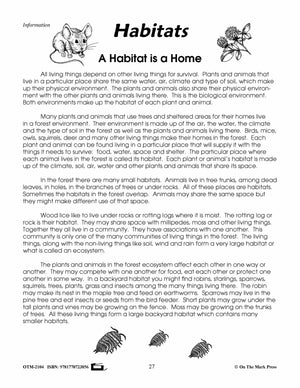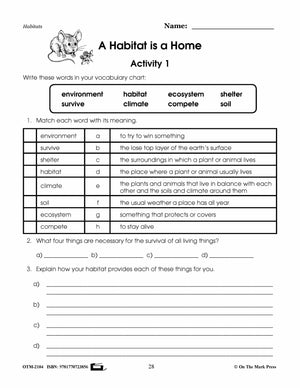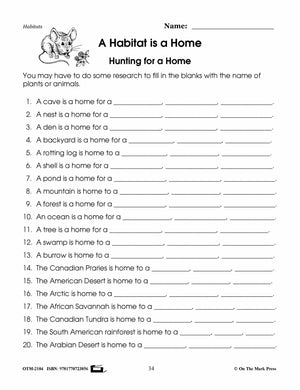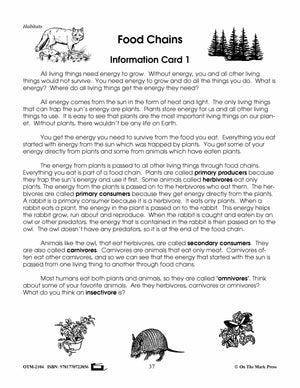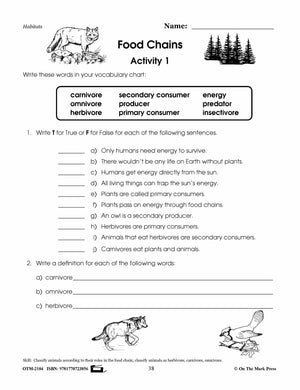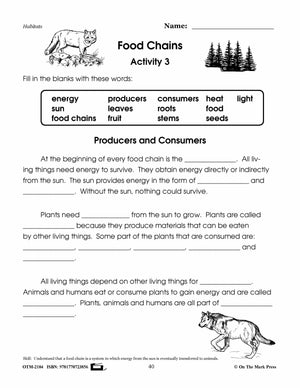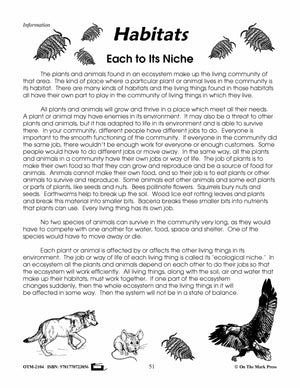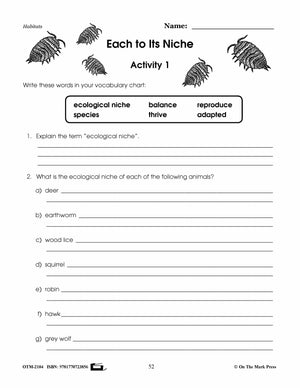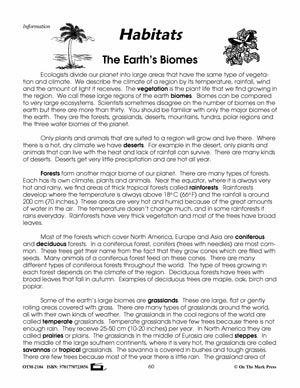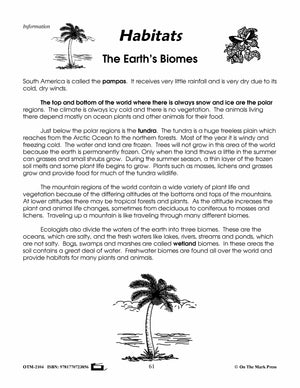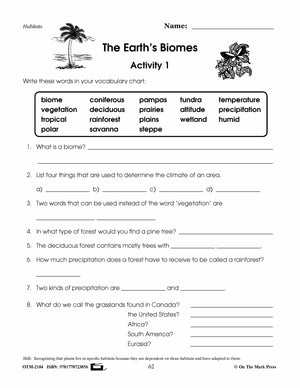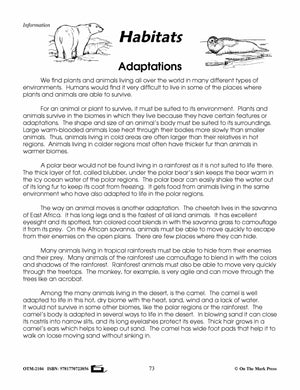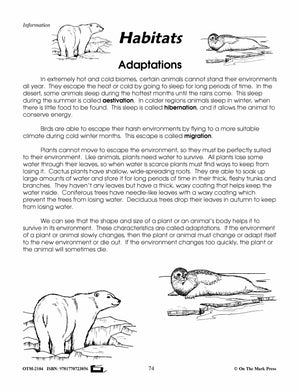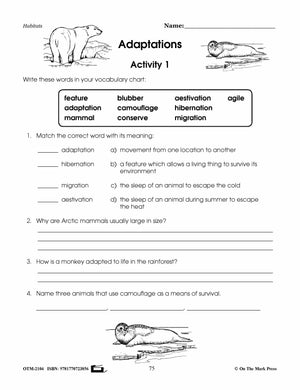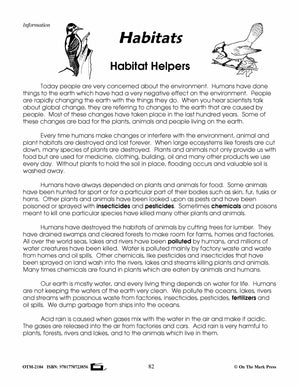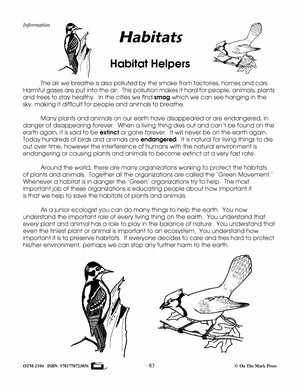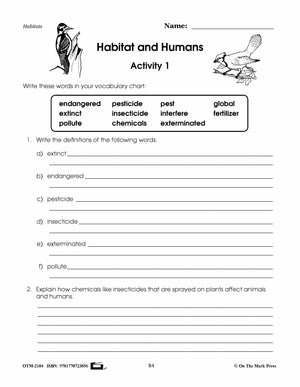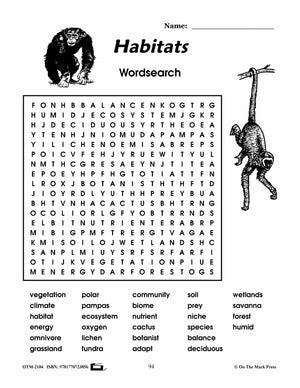 Habitats Grades 4-6
EBOTM2104
This easy-to-use, teacher-friendly resource provides 58 engaging reproducible student information cards and activities. Divided into seven components, the topics are best covered sequentially, however each component may be used alone. Many of the activities can be integrated into other areas of the curriculum.
Teacher suggestions and resources can be found at the beginning of each component. These pages give a brief overview of each topic, the learning expectations for the component and ideas for planning ahead and implementing the section. The implementation suggestions are presented as ideas only. It is not intended that any or all be implemented to use the activity pages.
Topics include:
What is Ecology?
A Habitat is a Home
Food Chains
Each to its Niche
Earth's Biomes
Adaptation
Habitat Helpers
Overall Student Expectations Include:

Identify, through observation, various factors that affect plants and animals in a specific habitat.

Classify organisms according to their role in a food chain.

Demonstrate an understanding of a food chain as a system in which energy from the sun is eventually transferred to animals.

Describe the structural adaptations of plants and animals that demonstrate a response of living things to their environment.

Recognize that plants and animals live in specific habitats because they are dependent on those habitats and have adapted to them.

Classify plants and animals observed in local habitats according to similarities and 

differences.

Formulate questions about and identify the needs of animals and plants in a particular habitat and explore possible answers to these questions and ways of meeting these needs.

Use appropriate vocabulary and science terminology when describing investigations, explorations and observations.

Compile data gathered through investigation, in order to record and present results, using tally charts, tables and graphs.

Communicate the procedures and results of investigations.

Describe ways in which humans are dependent on plants and animals.

Describe ways in which humans can affect the natural world.

Construct food chains that include different plant and animal species.

Show the effects on plants and animals of the loss of their natural habitats.

Investigate ways in which the extinction of a plant or animal species affects the rest of the natural community as well as humans.

 Understand that the information we have and continue to gain about plants and animals, their relationships to one another and their roles in the environment are due to the science of ecology.

Understand that the study of ecology is important to an understanding of environmental problems and possible solutions to those problems.

Understand that scientists gain information through observation and experimentation.

Have an understanding of the purpose of the activities and approach them like young scientists.

Plan investigations and identify variables that need to be held constant to ensure fair and accurate testing.
This book supports many of the fundamental concepts and learning outcomes from the curriculums for these provinces: British Columbia, Grade 4, Science, Life Science, Habitats & Communities; Manitoba, Grade 4, Science, Cluster 1, Habitats & Communities; Ontario, Grade 4, Science, Understanding Life Systems, Habitats & Communities; Saskatchewan, Grade 4, Science, Life Science, Habitats & Communities.
104 pages including an answer key.
---
---