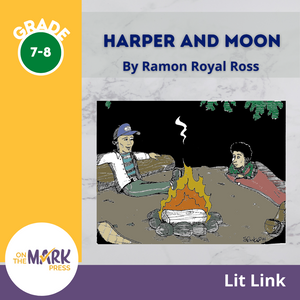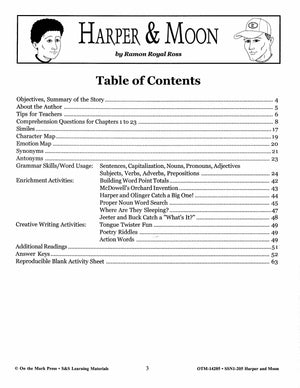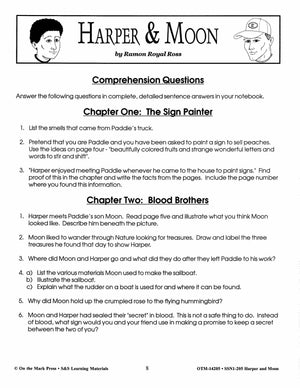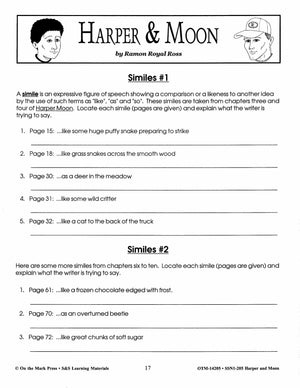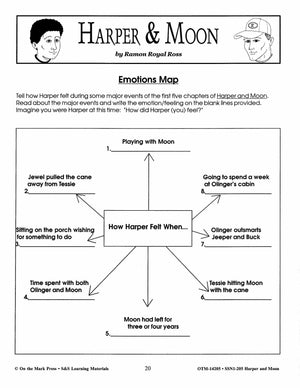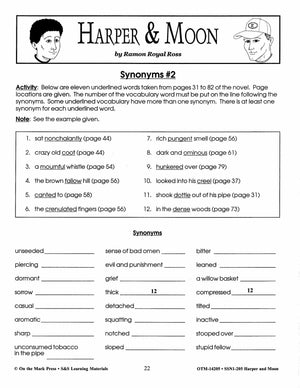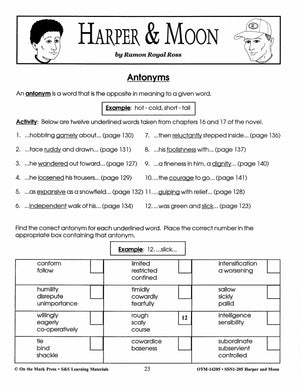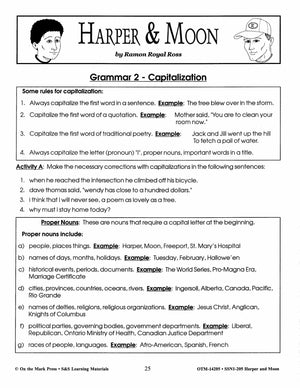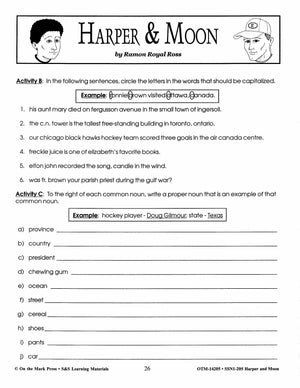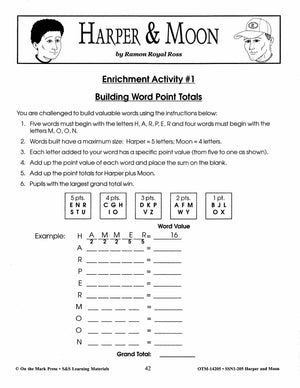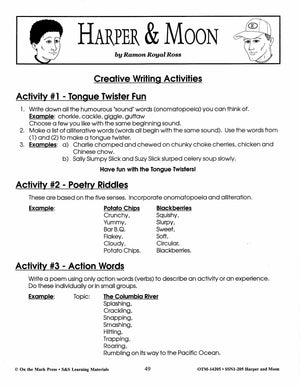 Harper & Moon, by Ramon Royal Ross Lit Link Grades 7-8
EBOTM14205
Additional information:
Author

:

Whittington, Keith
Twelve year old Harper introduces his best friend Moon to Olinger, an old mountain man. They spend a wonderful weekend at Olinger's cabin before Harper goes back to school. Moon is older and decides to serve in the war. Sometime later, news comes that Olinger is missing. Harper goes looking for him but finds him dead in the snow.
Reproducible chapter questions, plus comprehension questions, a story summary, author biography, creative and cross curricular activities, complete with answer key. 64 pages.
Objectives:
l. To foster a love for reading.
2. To acquaint the students with the writings of Ramon Royal Ross.
3. To emphasize and practise several major reading skills used in the reading program.
4. To provide opportunities for review and/or teaching of grammar skills.
5. To point out various literary devices such as similes, onomatopoeia and alliteration.
6. To provide creative and worthwhile enrichment follow-up activities.
7. To provide additional interest in reading.

Contents Include:
Objectives, Summary of the Story
About the Author
Tips for Teachers
Comprehension Questions for Chapters 1 to 23
Similes
Character Map
Emotion Map
Synonyms
Antonyms
Grammar Skills/Word Usage:
Sentences, Capitalization, Nouns, Pronouns, Adjectives

Subjects, Verbs, Adverbs, Prepositions 
Enrichment Activities:
Building Word Point Totals

McDowell's Orchard Invention 

Harper and Olinger Catch a Big One! 

Proper Noun Word Search

Where Are They Sleeping? 

Jeeter and Buck Catch a "What's It?" 
Creative Writing Activities:
Tongue Twister Fun

Poetry Riddles 

Action Words 
Additional Readings
Answer Keys
Reproducible Blank Activity Sheet


Novel by Ramon Royal Ross.
---
---