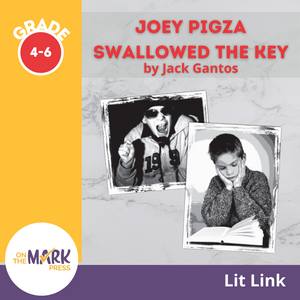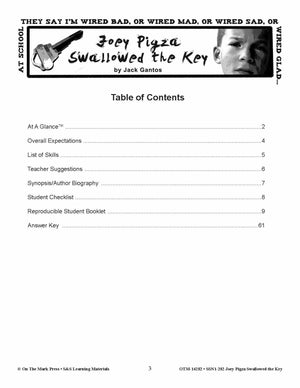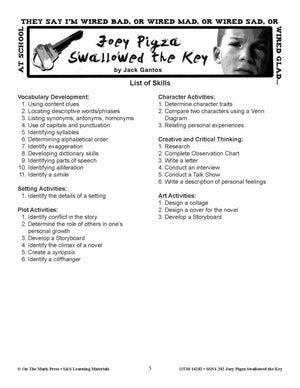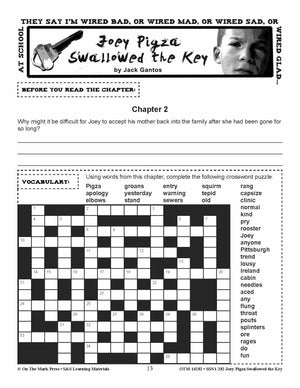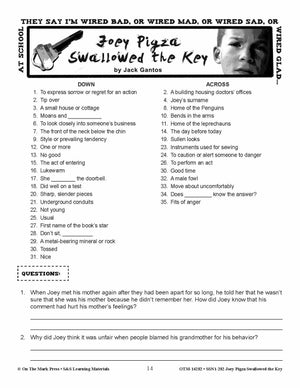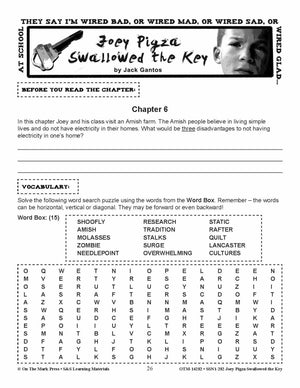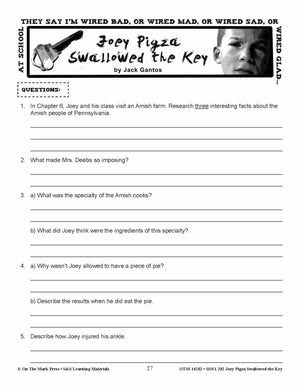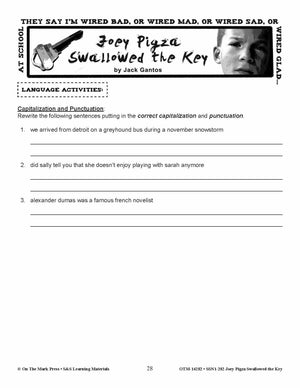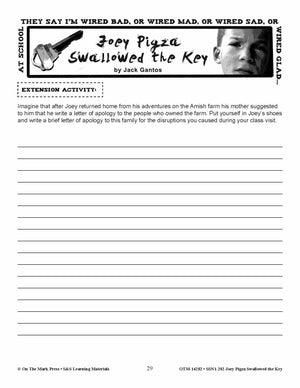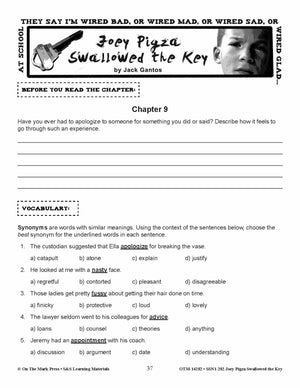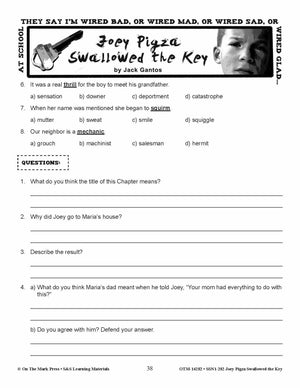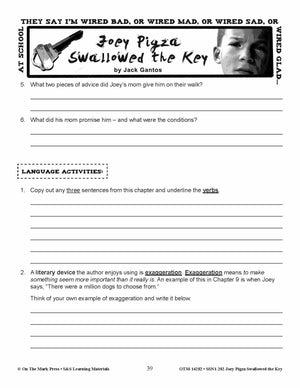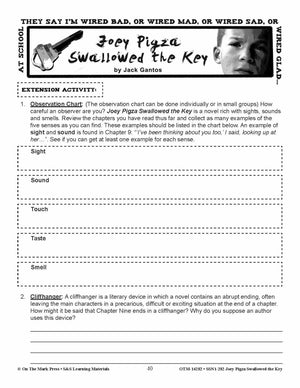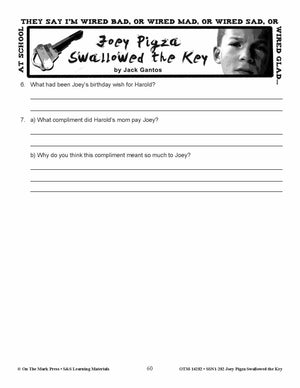 Joey Pigza Swallowed the Key Lit Link Grades 4-6
EBOTM14282
Students will enjoy reading about the continuing adventures and experiences of Joey Pigza, a young boy who suffers from ADD, Attention Deficit-Hyperactive Disorder.
About the Novel: Joey is a young boy with a turbulent past. He is constantly getting into trouble at school for his behavior and being sent to the principal's office. One day his behavior comes to a shattering climax and he is suspended from school for several weeks and then sent to a special Education facility to receive counseling.
At the facility Joey meets his new teacher and is sent to Pittsburgh for further medical tests. They put Joey on a 'patch' which released the medication at a more regulated rate and his behavior improves. As a reward for his improved behavior, his mother buys him a dog that Joey calls Pablo. After spending a few weeks with Special Ed, Joey returns to his regular school to try once more to fit in with his fellow students. A novel by Jack Gantos.
Chapter-by-chapter questions will strengthen students' reading comprehension and assist them in developing critical thinking and emotional development. The vocabulary and word study activities are designed to improve literacy skills in an enjoyable way. Plus a story summary, author biography, and answer key. 64 pages.
Overall Expectations
The students will:
• use good literature as a vehicle for developing skills: reasoning and critical thinking, knowledge of language structure, vocabulary building, and use of conventions.
• identify and describe elements of stories (i.e., plot, main idea, characters, setting).
• learn about: character development/growth, self-acceptance; living and coping with a disability and the shortcomings of one's self and others (i.e., one's parents); family relationships; the dangers of alcohol addiction.
• relate events and the feelings of characters found in the novel to their own lives and experiences.
• learn from a first person perspective the challenges of being an individual with special needs (ADHD - Attention-Deficit, Hyperactive Disorder).
• appreciate that the growth of one's character is often the result of trials that come into one's life.
• learn the importance of dealing with adversity and developing perseverance in the face of difficult experiences.
• state their own interpretation of a written work, using evidence from the novel and from their own knowledge and experience.
List of Skills
Vocabulary Development:
1. Using content clues
2. Locating descriptive words/phrases
3. Listing synonyms, antonyms, homonyms
4. Use of capitals and punctuation
5. Identifying syllables
6. Determining alphabetical order
7. Identify exaggeration
8. Developing dictionary skills
9. Identifying parts of speech
10. Identifying alliteration
11. Identify a simile
Setting Activities:
1. Identify the details of a setting
Plot Activities:
1. Identify conflict in the story
2. Determine the role of others in one's personal growth
3. Develop a Storyboard
4. Identify the climax of a novel
5. Create a synopsis
6. Identify a cliffhanger
Character Activities:
1. Determine character traits
2. Compare two characters using a Venn Diagram
3. Relating personal experiences
Creative and Critical Thinking:
1. Research
2. Complete Observation Chart
3. Write a letter
4. Conduct an interview
5. Conduct a Talk Show
6. Write a description of personal feelings
Art Activities:
1. Design a collage
2. Design a cover for the novel
3. Develop a Storyboard
---
---