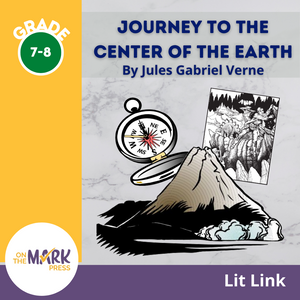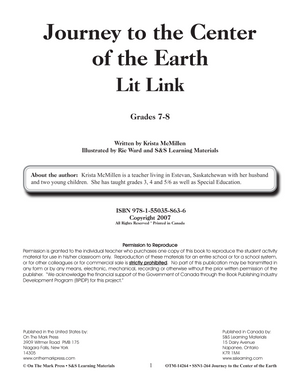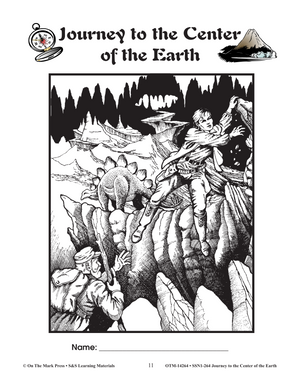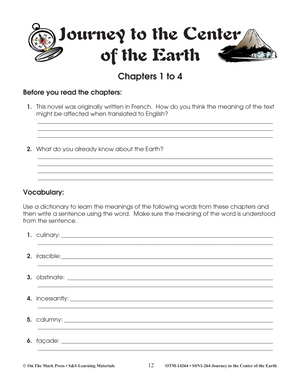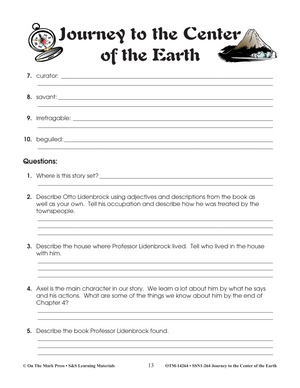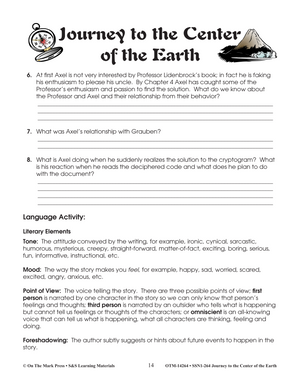 Journey to the Center of the Earth, by Jules Verne Lit Link/Novel Study Grades 7-8
EBOTM14264
Additional information:
Author

:

McMillen, Krista
Use the 48 pages of chapter questions, plus a booklet cover page, for the novel Journey to the Center of the Earthy by Jules Verne. Each set of chapter questions includes
Before You Read the Chapter Questions: Vocabulary; Questions (comprehension); Language Activities; and Extension Activities.
A story summary, author biography, and an answer key, complete this guide.
A secret code found in a medieval manuscript claims to reveal the location of a passage to the center of the Earth. A professor and his nephew set out on a timeless adventure through a volcano in Iceland. Oceans, prehistoric creatures, massive storms, and near-death explosions await them. But do they make it to the very center of the Earth?
Note: This resource is based on the Bantom Dell, 1991 edition, reissued in May 2006, with an Introduction by Kim Stanley Robinson
2. Understand and identify colloquialisms
3. Identify synonyms, antonyms, homonyms
4. Identify adjectives and adverbs
7. Use descriptive words and phrases
8. Dictionary or thesaurus skills
10. Use correct punctuation and capitalization
1. Identify and describe literary elements
2. Summarize events and details
4. Identify foreshadowing
1. Compare and understand characters
2. Match characters to their quotes
Creative and Critical Thinking
1. Use a Venn diagram to compare/contrast
3. Develop opinions and interpretations
6. Conduct and present research
2. Write and perform a skit
3. Create visuals of the reading
Integrating Other Subject Areas
1. Create a scale drawing
3. Conduct and present research
develop and practice their skills in reading, writing, listening and oral communication

use good literature as a vehicle for developing skills required by curriculum expectations: reasoning, critical, and creative thinking, knowledge of language structure, vocabulary building, and use of conventions

develop a love for literature and reading

identify elements of story

develop personal opinions and interpretations

develop their ability to express themselves orally to present opinions and information

develop their ability to work cooperatively with others practice good organization skills

learn about overcoming personal obstacles, personal relationships, character and integrity, and other personality traits

appreciate that growth in one's character is important

relate their reading to their own lives and experiences
64 pages including an answer key.
---
---