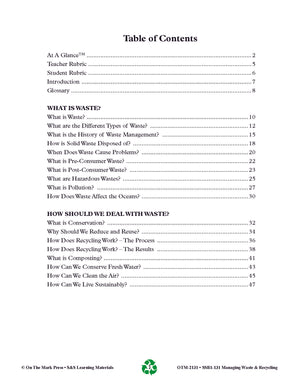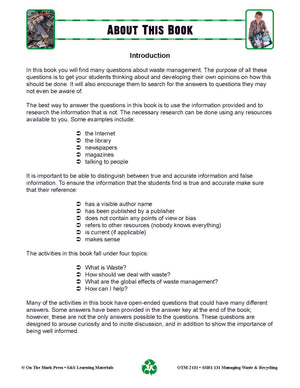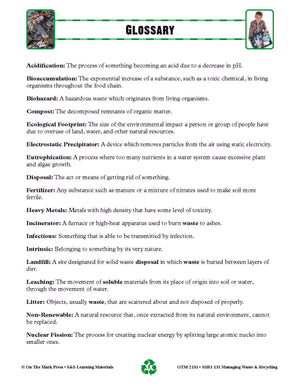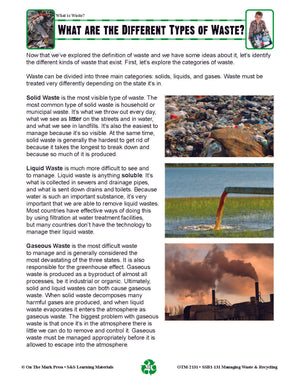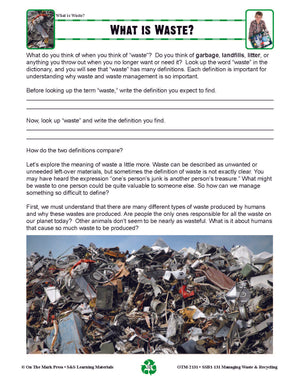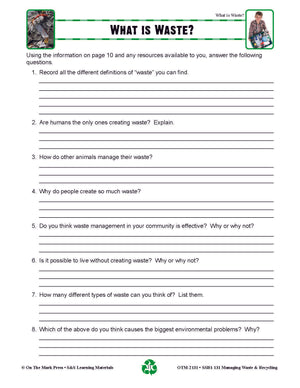 Managing Waste and Recycling Grades 5-8
EBOTM2131
Additional information:
Author

:

Summers, Eleanor M.
Teach About A Greener Tomorrow. Students will address pre and post-consumer waste, smog, managing landfills, incinerators, and oil spills. Get your students thinking about and developing their own opinions on how to reduce waste. and preserve their environment. This easy-to-use, teacher-friendly resource provides 30+ information-packed reproducible activities that focus on recycling and managing our waste. A teacher guide, resource list, and answer key are included.
TOPICS INCLUDE:

WHAT IS WASTE?

What is Waste? 
What are the Different Types of Waste? 
What is the History of Waste Management?
How is Solid Waste Disposed of?
When Does Waste Cause Problems?
What is Pre-Consumer Waste?
What is Post-Consumer Waste? 
What are Hazardous Wastes? 
What is Pollution? 
How Does Waste Affect the Oceans? 
HOW SHOULD WE DEAL WITH WASTE?

What is Conservation? 
Why Should We Reduce and Reuse? 
How Does Recycling Work? – The Process 
How Does Recycling Work? – The Results
What is Composting?
How Can We Conserve Fresh Water? 
How Can We Clean the Air? 
How Can We Live Sustainably? 
WHAT ARE THE GLOBAL EFFECTS OF WASTE MANAGEMENT?

Which Countries Have the Greatest Global Impacts?
How Does Waste Affect Public Health? 
What is Agricultural Waste? 
What is Construction Waste? 
How Does Waste from Mines Impact Us? 
What are Oil Spills? 
What are the Effects of Waste from Natural Disasters? 
What is Space Junk? 
What is the Cost of Waste? 
When has Waste Management Been Successful? 
HOW CAN I HELP?

What Do I Do With Household Hazardous Waste? 
Over-packaged? 
Does Your Community Produce Excess Emissions? 
How Can Biomass Benefit You? 
How Can You Spread the Word? 
Is Nuclear Fuel the Way to Go? 
Can Your School Achieve Zero Waste? 
How Many Batteries Can You Recycle?
What Words Go There? 
Where Did the Words Go? 
How Do You Feel About Waste Now? 
How Much Do You Know?
96 pages including an answer key.
You may also like:
Subscribe to our Fan List!: Our FANlist newsletter is full of tips on ways to save time with our resources, exclusive sales, new product info and free monthly downloads – you won't want to miss out!
Follow us on:
---
---