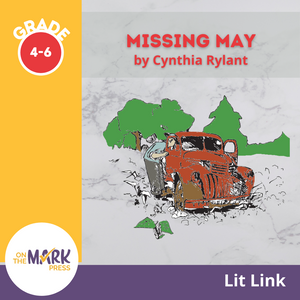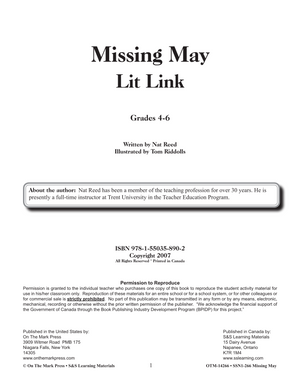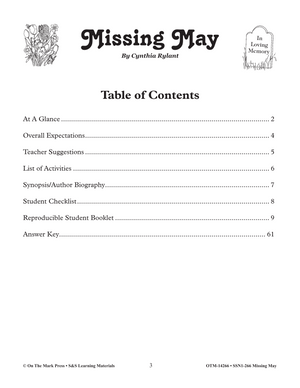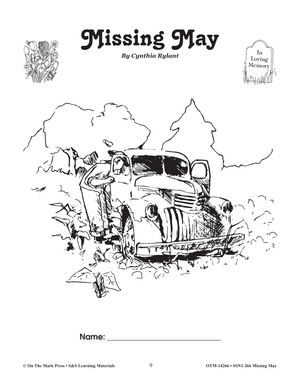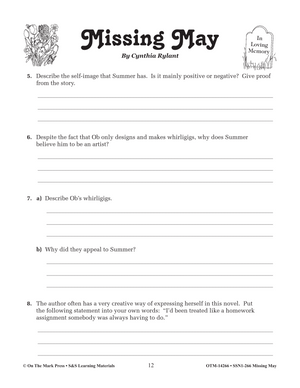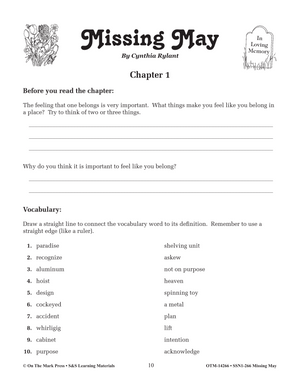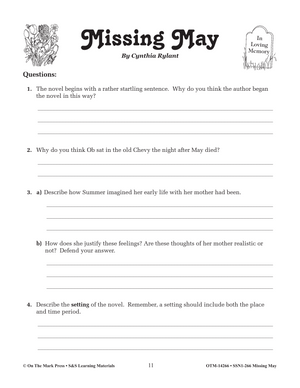 Missing May, a Novel by Cynthia Rylant Lit Link Grades 4-6
EBOTM14266
Winner of the Newbery Medal, Missing May is the endearing story of Summer, a young orphaned girl who goes to live with her elderly Uncle Ob and Aunt May. When Aunt May dies unexpectedly, Summer and Ob's lives are turned upside down. Ob, especially, has difficulty coming to terms with May's death, and although he claims to feel May's presence, he begins to lose the will to live. The family begins its slow recovery from grief through the influence of a local boy that Summer can barely tolerate, Cletus Underwood. How will Cletus, and his eccentric ways, ultimately change the lives of Ob and summer? Children will be touched by the themes of grief and acceptance in Missing May while enjoying the author's humorous style.
A delightfully humorous novel, Missing May is filled with fascinating characters, and deals memorably with the topics of grief and loss.
The activities in this Lit Link will guide their learning through chapter-by-chapter questions. Additional activities in vocabulary, work study, and personal development are designed according to research-based education principles to improve literacy skills in communication, critical thinking, and more. 64 pages with an answer key.
The students will:
• develop their skills in reading, writing, listening, and oral communication
• use good literature as a vehicle for developing skills required by curriculum expectations: reasoning and critical thinking, knowledge of language structure, vocabulary building, and use of conventions
• become meaningfully engaged in the drama of literature through a variety of types of
questions and activities
• identify and describe elements of stories (e.g., plot, main idea, characters, setting)
• learn and review many skills in order to develop good reading habits
• provide clear answers to questions and well-constructed explanations
• organize and classify information to clarify thinking
• learn about the grief process and the importance of the support of one's family and friends during this time
• relate events and feelings found in novels to their own lives and experiences
• appreciate the importance of friendship and loyalty in personal relationships
• learn the importance of dealing with adversity and developing perseverance in the face of adversity
• state their own interpretation of a written work, using evidence from the work and from their own knowledge and experience
• learn to accept and understand that differences in other people can be personally enriching if time and effort is invested in a relationship with them


---
---