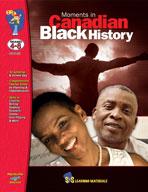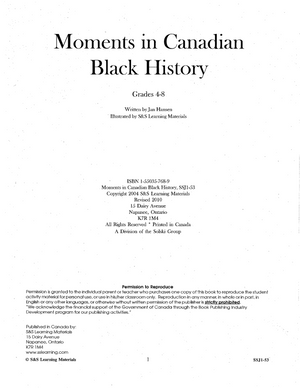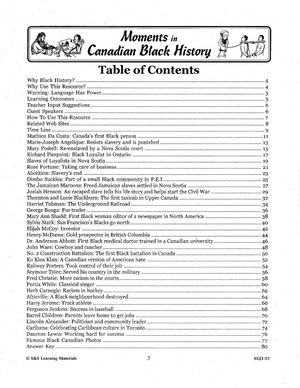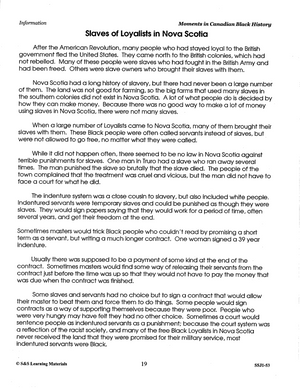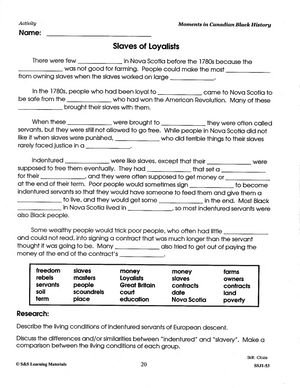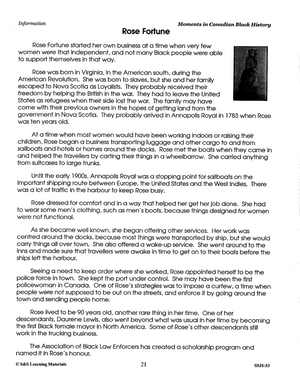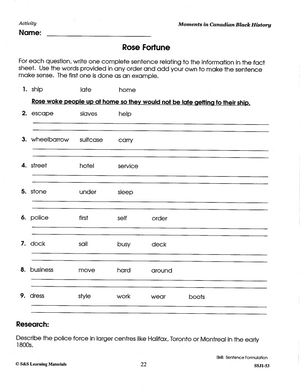 Moments in Canadian Black History Grades 5-8
EBJ153
Additional information:
Author

:

Hansen, Jan Graham
Fascinating Facts and Interesting Events, Build Comprehension Skills. By presenting little-known facts, this resource provides an intimate view of people and events in Canadian history.
Activities in this resource serve as a springboard for dialogue, with a wide range of activities including creative writing, research, drama, and role-playing with an emphasis on language as well as history.

Some moments included are:

Mathieu Da Costa: Canada's first Black person
Marie-Joseph Angelique: Resists slavery and is punished
Mary Postell: Re-enslaved by a Nova Scotia court
Richard Pierpoint: Black Loyalist in Ontario
Slaves of Loyalists in Nova Scotia
Rose Fortune: Taking care of business
Abolition: Slavery's end
Dimbo Suckles: Part of a small Black community in P.E.I
The Jamaican Maroons: Freed Jamaican slaves settled in Nova Scotia
Josiah Henson: An escaped slave tells his life story and helps start the Civil War
Thornton and Lucie Blackburn: The first taxicab in Upper Canada
Harriet Tubman: The Underground Railroad
George Bonga: Fur trader
Sylvia Stark: San Francisco's Blacks go north
Elijah McCoy: Inventor
Henry McDame: Gold prospector in British Columbia
Dr. Anderson Abbott: First Black medical doctor trained in a Canadian university
John Ware: Cowboy and rancher
No. 2 Construction Battalion: The first Black battalion in Canada
Railway Porters: Took control of their job
Seymour Tyler: Served his country in the military
Fred Christie: More racism in the courts
Portia w·hite: Classical singer
Herb Carnegie: Racism in hockey
Africville: A Black neighbourhood destroyed
Harry Jerome: Track athlete
FergusonJenkins: Success in baseball
Barrel Children: Parents leave home to get jobs
Lincoln Alexander: Politician and community leader
Caribana: Celebrating Caribbean culture in Toronto
Daurene Lewis: Working hard for success
80 pages.

---
---