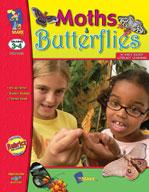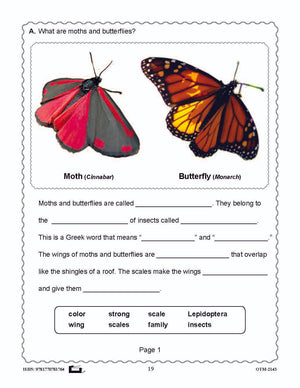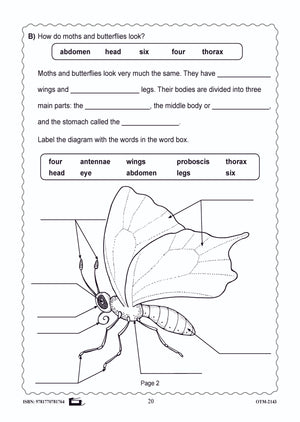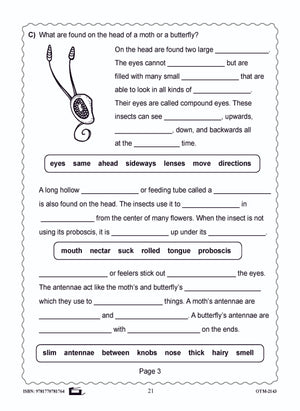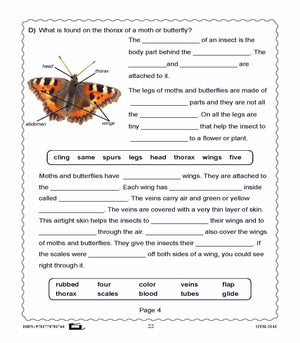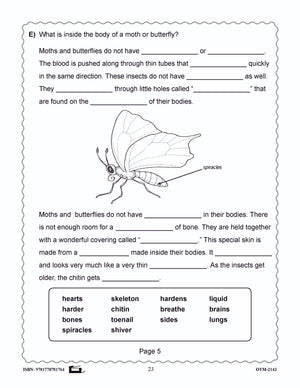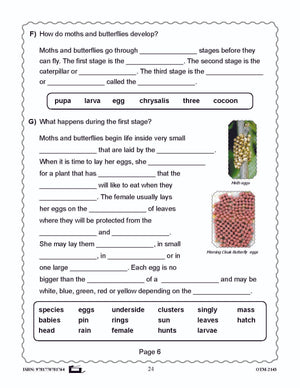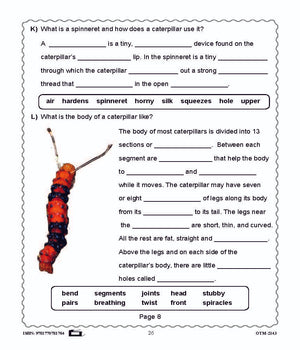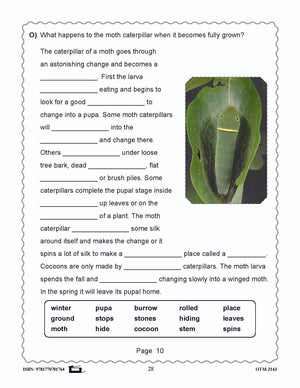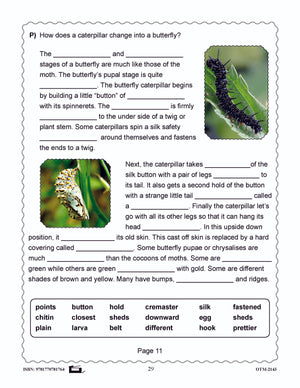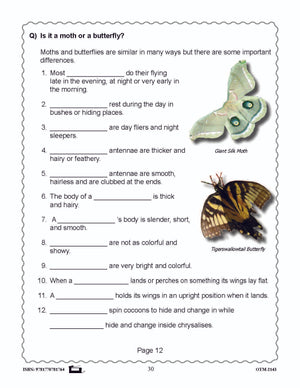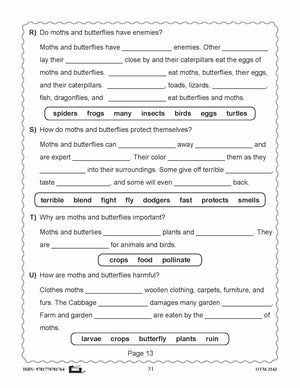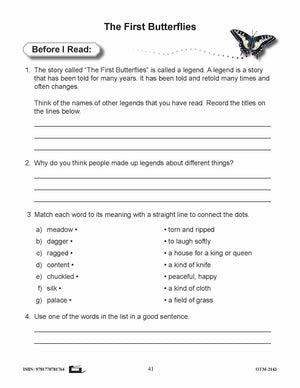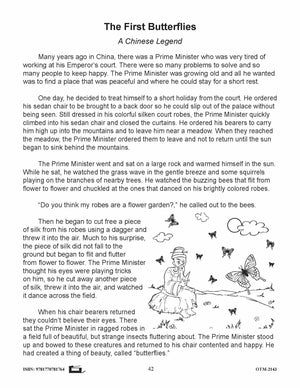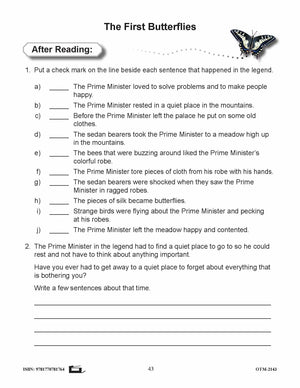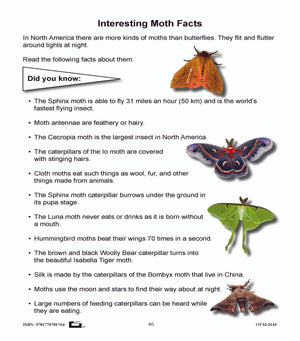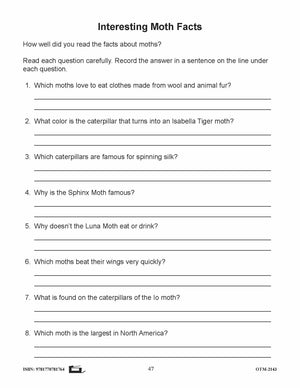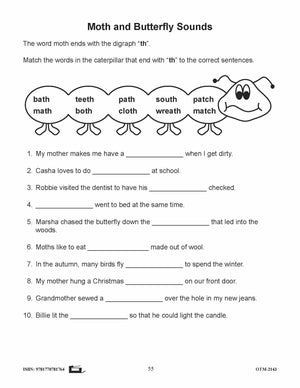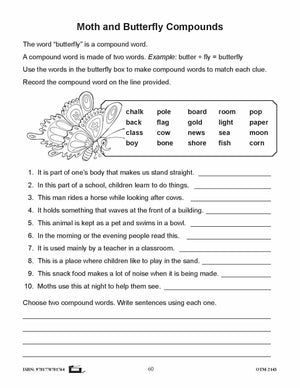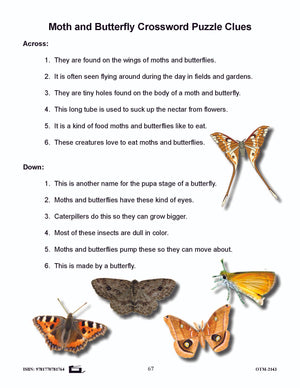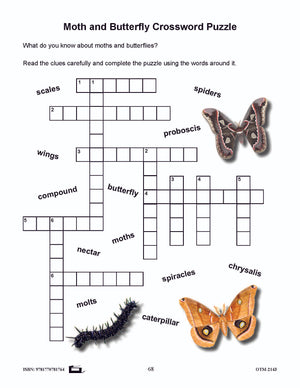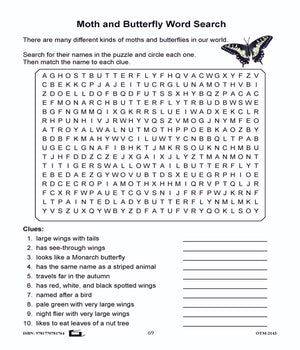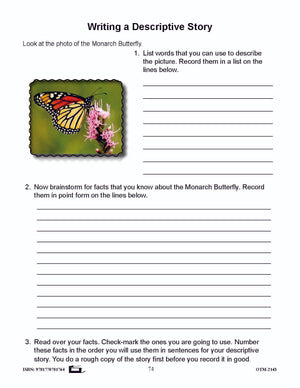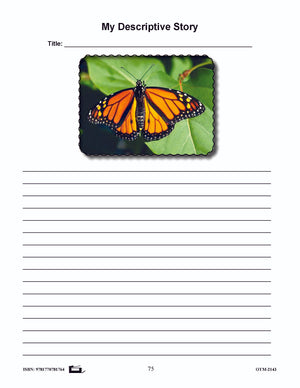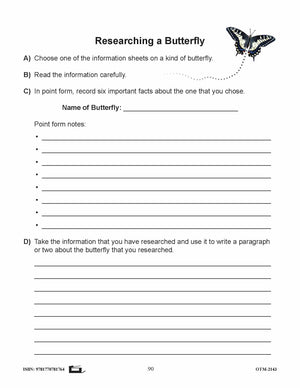 Butterflies and Moths Grades 3-4 - The similarities and differences activities and worksheets
EBOTM2143
Over 40+ activities encourage students to learn the similarities and differences between moths and butterflies. Students will find out the strange facts about their colors, sizes, shapes, and habits. Use these activities to help you teach and review your students skills in the areas of science, reading, vocabulary, phonics, research, and language.
 A teacher guide and answer key complete this resource.
The learning objectives will:
Introduce students to the insect world by studying the habits and life styles of two species of insects.
Teach students how to identify the body parts of a butterfly, a moth and a caterpillar and their functions.
Inform students of the four stages of development of butterflies, moths and caterpillars.
Develop the awareness of the importance of butterflies and moths in our environment.
Compare the characteristics of moths and butterflies noting their similarities and differences.
Recognition of harm and damage caused by insects
Development of reading and language skills with materials related to a topic
 Resources for the teacher:
Teacher Assessment Rubric
Student Self-Assessment Rubric
Teacher Notes: Introduction, Teaching Suggestions
Teacher Information on Moths and Butterflies
Vocabulary List for Moths and Butterflies
Poetry for Moths and Butterflies
Reproducible Student Booklet on Moths and Butterflies
Reading Stories and Activities:
A Famous Silk Maker
How Silkworms Were Discovered
From Silkworm to Moth
The First Butterflies
Butterfly Poetry
Interesting Moth Facts
Interesting Butterfly Facts
The Science Shelf's Surprise Visitor
Is It a Moth or Butterfly?
Phonic Activities:
Moth and Butterfly Sounds - Initial Consonants "Bb" and "Mm"
Moth and Butterfly Sounds - Final "th" Digraph
Moth and Butterfly Sounds - Double Consonants
Moth and Butterfly Sounds - Short "u" Vowel Sound
Moth and Butterfly Sounds - Short "o" Vowel Sound
Moth and Butterfly Sounds - Double Vowel Combination "oo"
Vocabulary Activities:
Moth and Butterfly Compound Words
Moth and Butterfly Classification
Moth and Butterfly Riddles
Moth and Butterfly Syllables
Moth and Butterfly Verbs
Moth and Butterfly Spelling
Moth and Butterfly Double Letters
Moth and Butterfly Crossword Puzzle
Moth and Butterfly Word Search
Language Activities:
All About Caterpillars
Writing a Moth Legend
Let's Write a Butterfly Legend
Let's Pretend!
Writing a Descriptive Story
 Research Activities:
Research Information Sheets for
Cecropia Moth
The Luna Moth
Isabella Tiger Moth
The Tomato Sphinx Moth
The Hummingbird Clearwing Moth
The Monarch Butterfly
The Tiger Swallowtail Butterfly
Viceroy Butterfly
The Painted Lady Butterfly
The Mourning Cloak Butterfly
Research Chart
Researching a Moth
Researching a Butterfly
96 pages
---
---