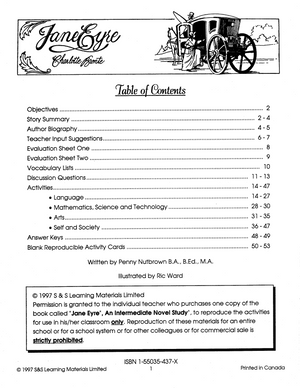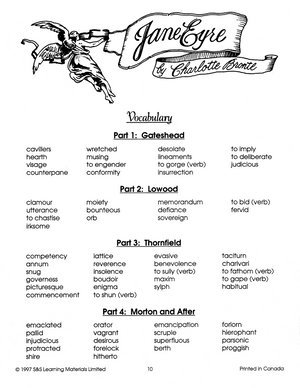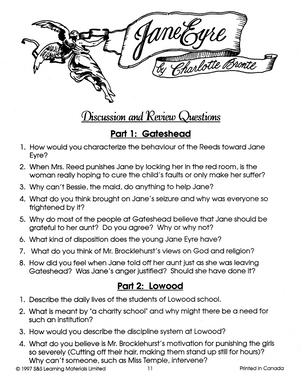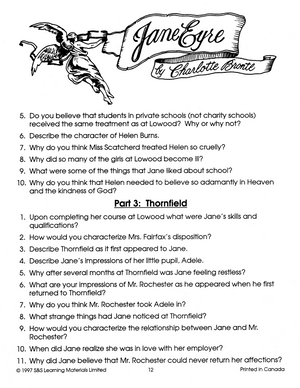 Jane Eyre, by Charlotte Bronte: Novel Study Guide Gr. 7-8
EBN1106
Jane Eyre, lives with an uncaring aunt and three cruel cousins. Unwilling to continue to provide for her niece, the aunt sends Jane to a harsh charity school for girls. Trained as a teacher, Jane accepts a job as governess for the mysterious Mr. Rochester.
Jane Eyre lends itself well to themes on a variety of topics including the Victorian period, the changing role of women in society, self-esteem and self-concept, the distribution of wealth and class structures, marriage and independence.
Discussion & Review Questions for all four parts of the novel, plus a story summary, author biography, and teacher input suggestions, and an answer key.
Mathematics, Science and Technology
Outcomes:
The student will be able to...
incorporate new vocabulary introduced in Jane Eyre into her/his own work and use consistently standard spelling of said vocabulary.

use appropriate forms of writing to make thoughtful and insightful connections between her/his own experiences and that of the characters in Jane Eyre.

use a wide range of reading strategies efficiently and make connections between ideas presented in the novel and from other sources.

critically explore intellectual, moral and social issues (such as theme, culture, race and gender bias) presented in the novel and present in the student's own society.

identify stereotypes in media depictions of women and present ways in which media can influence and alter the viewer's perceptions.
---
---