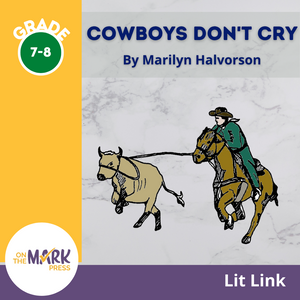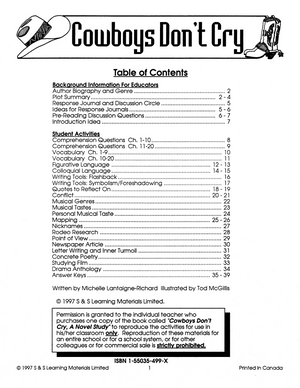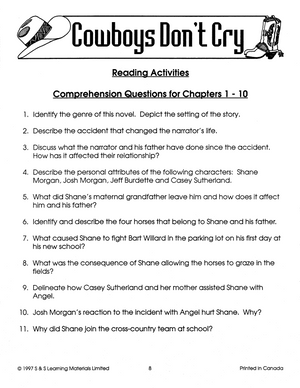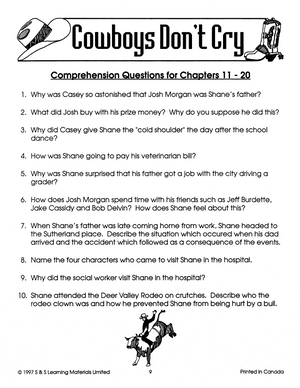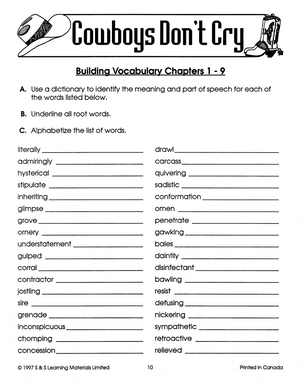 Cowboys Don't Cry, by Marilyn Halvorson Novel Study Gr. 7-8
EBN1148
Additional information:
Author

:

S&S Learning Materials
Shane Morgan, a 14 year old from Alberta lives a nomadic life with his father, a former champion-bull rider turned rodeo clown. Novel by Marilyn Halvorson
This novel is an excellent piece of contemporary realistic fiction. Adolescents will be
especially interested as it deals with genuine struggles and focuses on adolescent reactions.
Reproducible chapter questions, plus comprehension questions, a story summary, author biography, creative and cross curricular activities, complete with answer key.
For the Teacher:

Background Information For Educators
Author Biography and Genre 
Plot Summary
Response Journal and Discussion Circle 
Ideas for Response Journals 
Pre-Reading Discussion Questions
Introduction Idea 
Answer Keys 
Student Activities
Comprehension Questions Ch. 1-10 
Comprehension Questions Ch. 11-20 
Vocabulary Ch. 1-9
Vocabulary Ch. l 0-20 
Figurative Language 
Colloquial Language 
Writing Tools: Flashback
Writing Tools: Symbolism/Foreshadowing 
Quotes to Reflect On 
Conflict 
Musical Genres
Musical Tastes 
Personal Musical Taste 
Mapping 
Nicknames 
Rodeo Research 
Point of View 
Newspaper Article 
Letter Writing and Inner Turmoil
Concrete Poetry
Studying Film 
Drama Anthology 


---
---