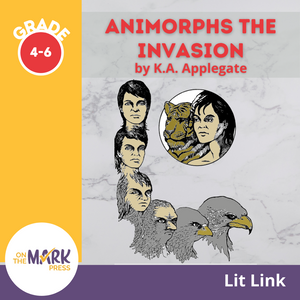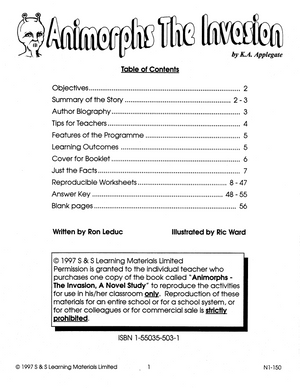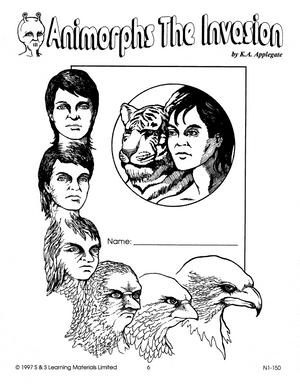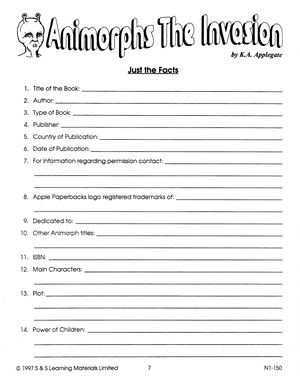 Animorphs The Invasion: Novel Study Guide Gr. 4-6
EBN1150
The Earth
is being invaded, but no one knows about it. When Jake, Rachel, Tobias, Cassie, and Marco stumble upon a downed alien spaceship and its dying pilot, they're given an incredible power-they can transform into any animal they touch. With it, they become Animorphs, the unlikely champions in a secret war for the planet. And the enemies they're fighting could be anyone, even the people closest to them. Find out what happens next.
Reproducible chapter questions, plus comprehension questions, a story summary, author biography, creative and cross curricular activities, complete with answer key.
1. To emphasize the major strategies used during the reading process.
2. To provide practice and reinforcement in a variety of language skills.
3. To foster a love for reading.
4. To improve and develop students' creativity.
5. To assess students' work through the use of a novel as a teaching tool.
Features of the Programme
Features of the Programme
• Compatible with Curriculum.
• Variety of Reading Techniques.
• Uses major strategies of reading.
• Practice in language forms and conventions.
• Individual or collaborative activities.
• Variety of evaluation techniques.
• Identifiable learning outcomes.
• Ease of assessment and parental reporting.
---
---