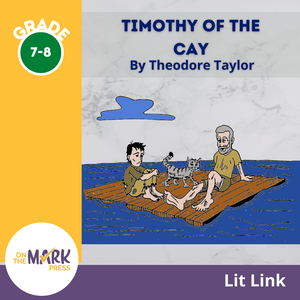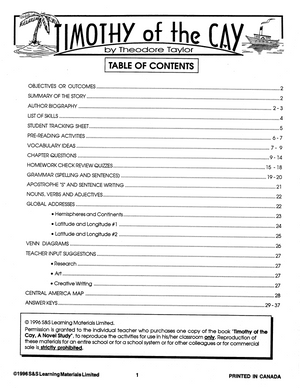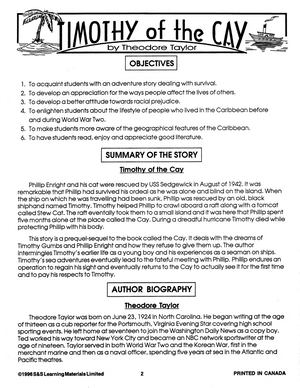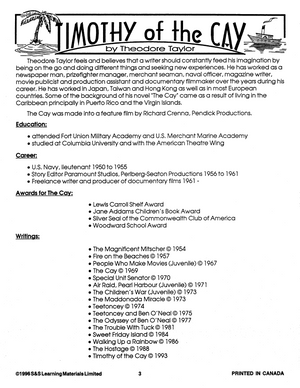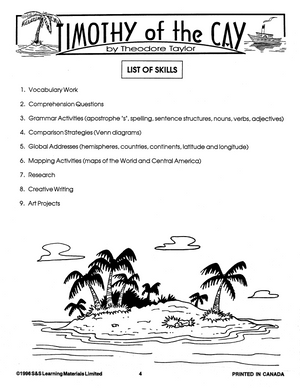 Timothy of the Cay, by Theodore Taylor Novel Study Guide Gr. 7-8
EBN182
Phillip Enright and his cat were rescued by USS Sedgewick in August of 1942. It was remarkable that Phillip had survived his ordeal as he was alone and blind on the island. When the ship on which he was travelling had been sunk, Phillip was rescued by an old, black shiphand named Timothy. Timothy helped Phillip to crawl aboard a raft along with a tomcat called Stew Cat. The raft eventually took them to a small island and it was here that Phillip spent five months alone at the place called the Cay. During a dreadful hurricane Timothy died while protecting Phillip with his body.
This story is a prequel-sequel to the book called The Cay. It deals with the dreams of Timothy Gumbs and Phillip Enright and how they refuse to give them up. The author intermingles Timothy's earlier life as a young boy and his experiences as a seaman on ships. Timothy's sea adventures eventually lead to the fateful meeting with Phillip. Phillip endures an operation to regain his sight and eventually returns to the Cay to actually see it for the first time and to pay his respects to Timothy.
 Novel by Theodore Taylor
Reproducible chapter questions, plus comprehension questions, a story summary, author biography, creative and cross curricular activities, complete with answer key. 40 pages
OBJECTIVES
1. To acquaint students with an adventure story dealing with survival.
2. To develop an appreciation for the ways people affect the lives of others.
3. To develop a better attitude towards racial prejudice.
4. To enlighten students about the lifestyle of people who lived in the Caribbean before and during World War Two.
5. To make students more aware of the geographical features of the Caribbean.
6. To have students read, enjoy and appreciate good literature.
LIST OF SKILLS
Vocabulary Work
Comprehension Questions
Grammar Activities (apostrophe "s", spelling, sentence structures, nouns, verbs, adjectives)
Comparison Strategies (Venn diagrams)
Global Addresses (hemispheres, countries, continents, latitude and longitude)
Mapping Activities (maps of the World and Central America)
Research
Creative Writing
Art Projects
SUMMARY OF THE STORY
AUTHOR BIOGRAPHY
STUDENT TRACKING SHEET
PRE-READING ACTIVITIES
VOCABULARY IDEAS
CHAPTER QUESTIONS
HOMEWORK CHECK REVIEW QUIZZES
GRAMMAR (SPELLING AND SENTENCES)
APOSTROPHE "S" AND SENTENCE WRITING
NOUNS, VERBS AND ADJECTIVES
GLOBAL ADDRESSES
Hemispheres and Continents
Latitude and Longitude #1
Latitude and Longitude #2
VENN DIAGRAMS
TEACHER INPUT SUGGESTIONS
Research
Art
Creative Writing
CENTRAL AMERICA MAP
---
---