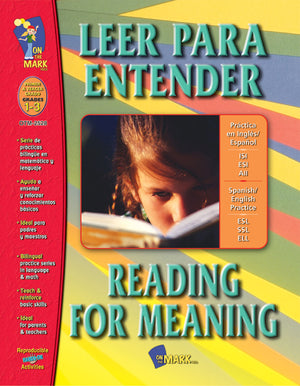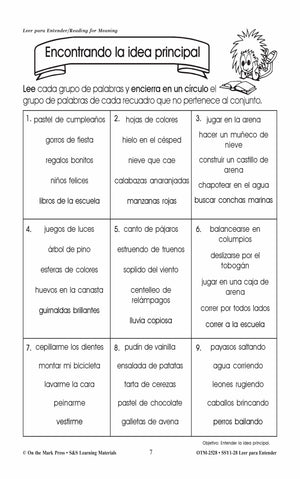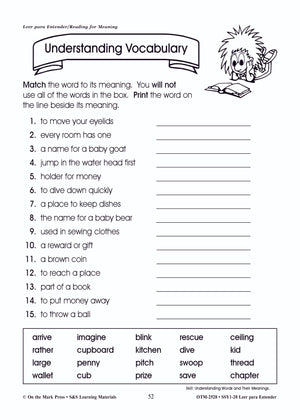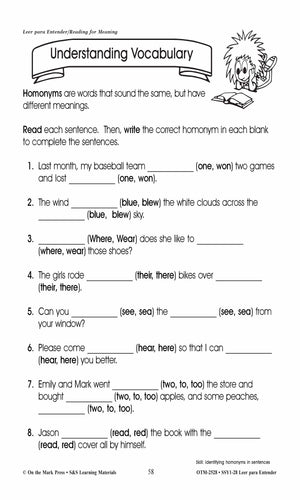 Leer para Entender/Reading for Meaning - A Spanish and English Workbook Grades 1-3
EBOTM2528
Leer para Entender/Reading for Meaning is an effective resource for teaching or reviewing reading skills. The activities in this book provide practice in the following reading skills: finding the main idea, seeing relationships, drawing conclusions, making inferences, using context clue , noting details, observing sequence, following directions and understanding vocabulary.

Leer para Entender/Reading for Meaning es un recurso efectivo para enseñar o repasar las habilidades lectoras. Las actividades en este libro brindan práctica en las siguientes habilidades de lectura: encontrar la idea principal, ver relaciones, sacar conclusiones, hacer inferencias, usar claves de contexto, notar detalles, observar secuencias, seguir instrucciones y comprender vocabulario.
Leer Para Entender/Reading for Understanding He aqui una serie de prácticas lista para usar en inglés y en espanol dirigida a estudiantes de inglés como segundo idioma (ISI), espanol como segundo idioma (ESI) y aprendizaje del idioma inglés (AII). Con este libro, usted podrá ensenar, revisar y reforzar los conocimientos básicos de lectura, escritura y matemática tanto en inglés como en espanol. El formato fácil de usar que ofrece esta serie presenta la práctica en espanol en una página y su contenido equivalente en idioma inglés en la página contigua.
Here is a ready-to-use bilingual series for busy educators and parents. This easy-to-use format provides Spanish content on the right-facing page, and the corresponding English content on the left-facing page. Wherever possible, the activities have been directly translated from one language to the other. This "direct translation" approach has been used with all activities featuring core skills that are the same in both Spanish and English. For the basic skills that differ between Spanish and English, an "adaptation" approach has been used. In the adapted activities, the Spanish content may be very different from the English content on the corresponding page - yet both worksheets present concepts and skills that are central to each language. By using a combination of both direct translations and adaptations of the activities, this bilingual series provides · worksheets that will help children develop a solid understanding of the basic concepts in both Spanish and English.
The skill focus is printed on the bottom of each page, and a complete answer key in included.
The Build Their Skills workbooks are designed to develop a strong foundation of basic skills that promotes a child's success in future learning
64 pages.
***********************************************************************************
You may like our Spanish Savings Bundle!
Subscribe to our Fan List!: Our FANlist newsletter is full of tips on ways to save time with our resources, exclusive sales, new product info and free monthly downloads – you won't want to miss out!
Follow us on:
---
---