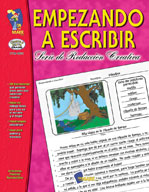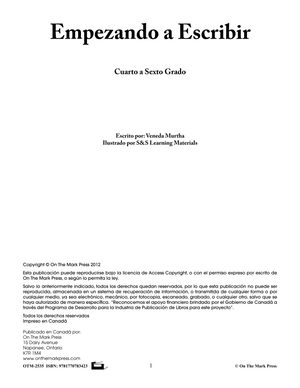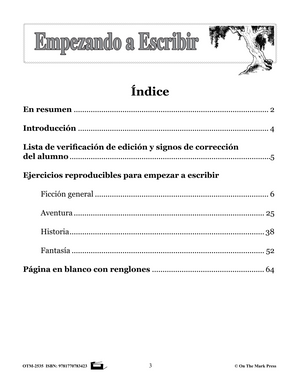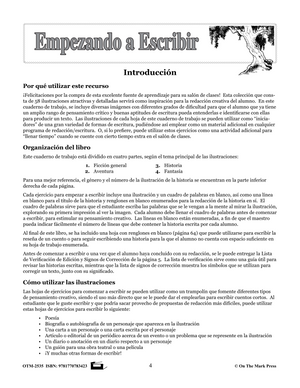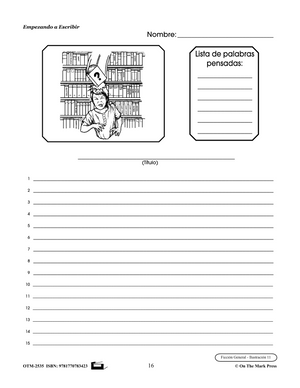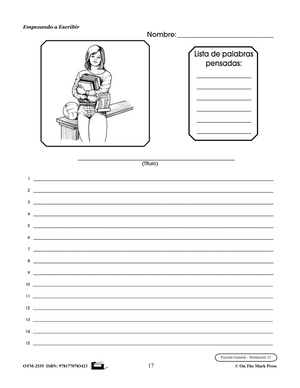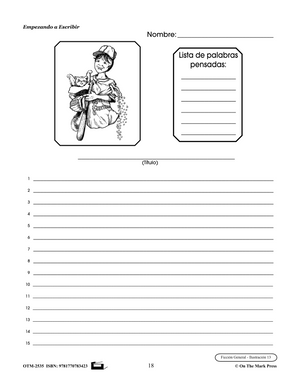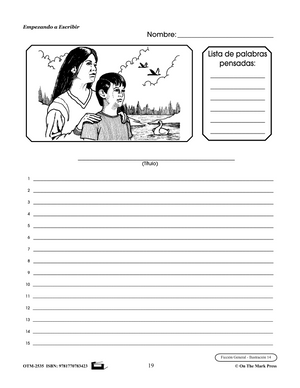 Empezando A Escribir Seire de Redaccion Creativa Spanish Story Starters Grades 4-6
EBOTM2535
Por qué utilizar este recurso ¡Felicitaciones por la compra de esta excelente fuente de aprendizaje para su salón de clases! Esta colección que cons- ta de 58 ilustraciones atractivas y detalladas servirá como inspiración para la redacción creativa del alumno. En este cuaderno de trabajo, se incluye diversas imágenes 
con diferentes grados de dificultad para que el alumno que ya tiene un amplio rango de pensamiento crítico y buenas aptitudes de escritura pueda entenderlas e identificarse con ellas para producir un texto. Las ilustraciones de cada hoja de este cuaderno de trabajo se pueden utilizar como "inicia- dores" de una gran variedad de formas de escritura, pudiéndose así emplear como un material adicional en cualquier programa de redacción/escritura. O, si lo prefiere, puede utilizar estos ejercicios como una actividad adicional para "llenar tiempo" cuando se cuente con cierto tiempo extra en el salón de clases.
Ejercicios reproducibles para empezar a escribir
Here are 58 engaging and detailed illustrations that will inspire students' creative writing. The images vary in complexity so that students with a wide range of critical thinking and writing abilities may engage meaningfully with them. These ready-to-use worksheets are ideal for both at-home and in-class use. They can be used to augment any writing program, or may be used as a meaningful "filler" activity when students have spare time. The illustrations may be used to generate ideas for short stories, poetry, letter writing, and much more! Student writing checklist included.
***********************************************************************************
Other Spanish Titles you may like:
Subscribe to our Fan List!: Our FANlist newsletter is full of tips on ways to save time with our resources, exclusive sales, new product info and free monthly downloads – you won't want to miss out!
Follow us on:
---
---