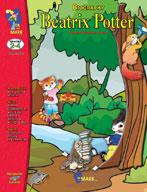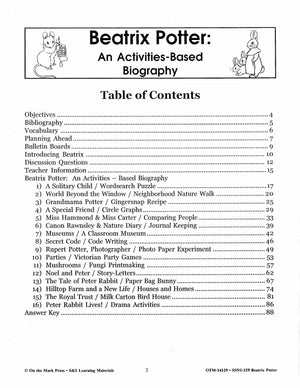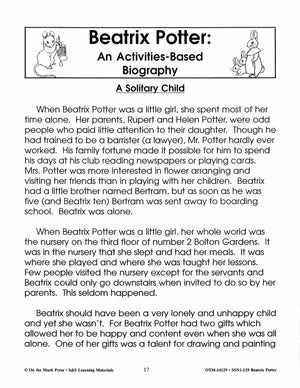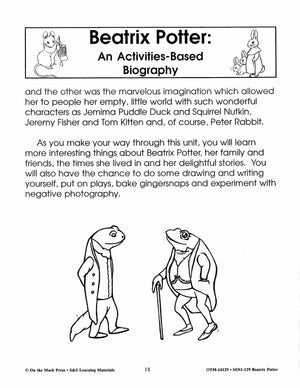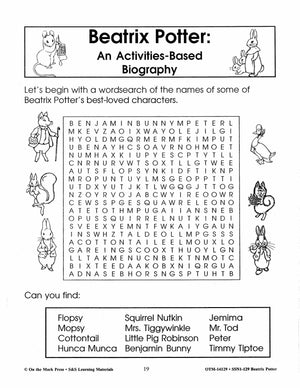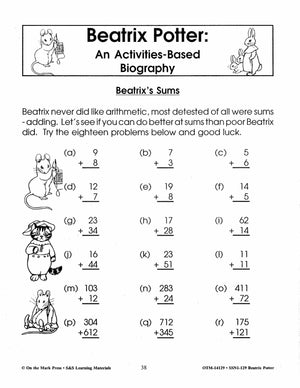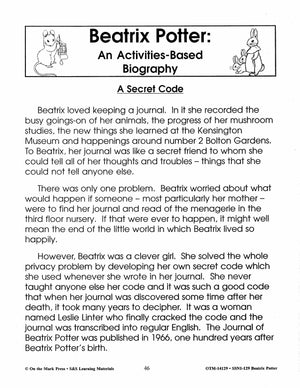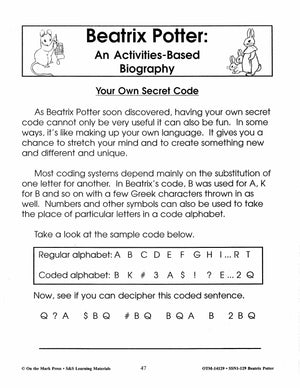 Reading with Beatrix Potter Author Study - A Biography Grades 2-4
EBOTM14129
Kids love the stories of Beatrix Potter! The emphasis of this resource is not upon the little books, but upon the life of their creator, Beatrix Potter. 
Students will learn how Beatrix Potter triumphed over obstacles that stood in her way, her love of animals, nature and art, and how different day to day life was in the Victorian period.
Includes 16 reproducible work sheets, teacher suggestions for easy implementation and an answer key. 88 pages
Skills covered include reading comprehension, word study, creative thinking, writing and more! 
Before, During and After Discussion questions complete this resource.
Language:
The pupil will be able to follow written instructions in order to produce a specific product (ex: gingersnaps, nature photo print, secret code) or outcome (ex: playing a group game successfully).
Science and Technology:
The pupil will develop a deeper appreciation for the connectedness of nature and the role of humankind in the preservation and conservation of the natural world. The pupil will develop an understanding of the role played by creative self expression in the acquisition of identity and self-esteem.
Self and Society:
Through the study of Beatrix Potter's biography, the pupil will develop an understanding of how one can take charge of one's life to find one's own role and happiness.
Beatrix Potter: An Activities - Based Biography
1) A Solitary Child / Wordsearch Puzzle
2) World Beyond the Window / Neighborhood Nature Walk
3) Grandmama Potter / Gingersnap Recipe
4) A Special Friend / Circle Graphs 
5) Miss Hammond & Miss Carter / Comparing People
6) Canon Rawnsley & Nature Diary / Journal Keeping
7) Museums / A Classroom Museum 
8) Secret Code / Code Writing 
9) Rupert Potter, Photographer / Photo Paper Experiment
10) Parties / Victorian Party Games 
11) Mushrooms / Fungi Printmaking 
12) Noel and Peter/ Story-Letters 
13) The Tale of Peter Rabbit / Paper Bag Bunny
14) Hilltop Farm and a New Life/ Houses and Homes
15) The Royal Trust / Milk Carton Bird House
16) Peter Rabbit Lives! / Drama Activities 
Here's what Julie S. is saying about this resource: "Fantastic resource as my students are reading the books of Beatrix Potter and studying her life." 
---
---