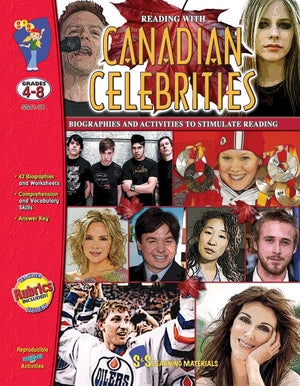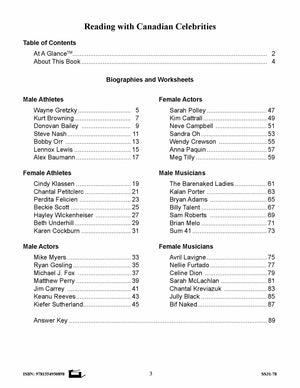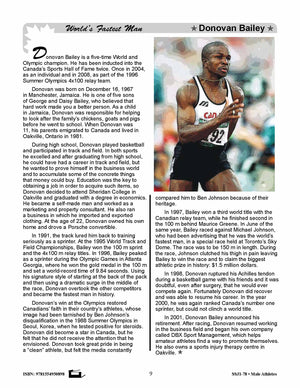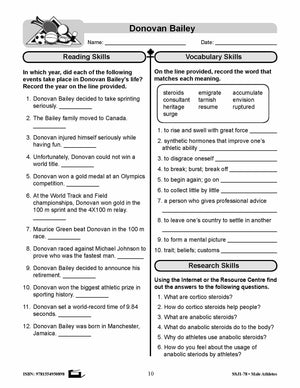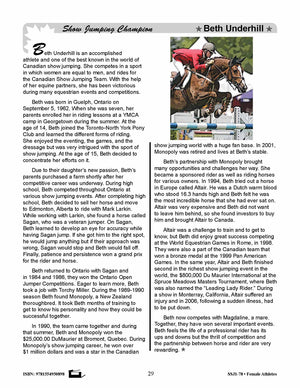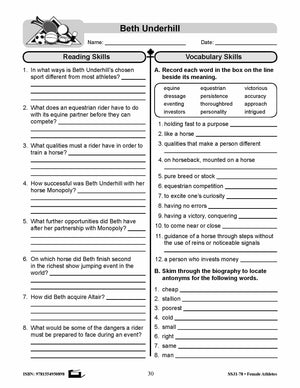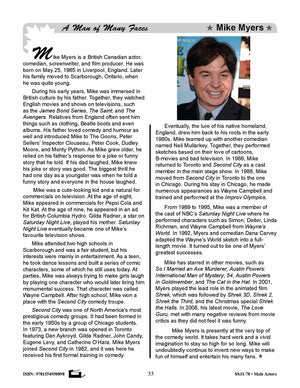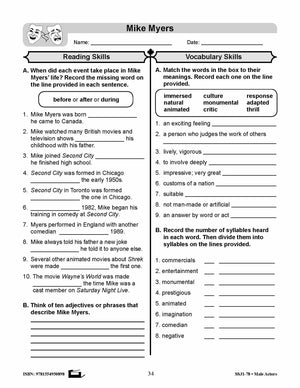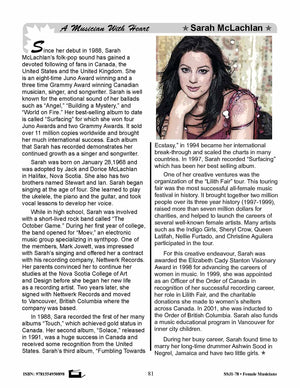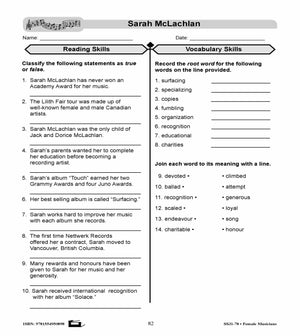 Reading with Canadian Celebrities Grades 4-8
EBJ178
Each story spotlights some of Canada's and the world's hottest stars.
Each biography is followed by hands-on activities designed to strengthen and improve reading comprehension, vocabulary development, language, and research skills.

This resource is a compilation of forty-two biographies and forty-two worksheets that pertain to famous Canadian male and female athletes, actors, and musicians. The biographies have been created to promote and familiarize students with Canadians who have become famous in the fields of sport, music and drama while providing an interesting genre to strengthen students' reading skills. The worksheets that accompany the biographies focus on the development of a variety of reading comprehension skills, the development and reinforcement of vocabulary and language skills, and the continuing development of research skills.
Biographies and Worksheets

Male Athletes

Wayne Gretzky 
Kurt Browning
Donovan Bailey 
Steve Nash 
Bobby Orr 
Lennox Lewis 
Alex Baumann
Female Athletes

Cindy Klassen
Chantal Petitclerc 
Perdita Felicien
Beckie Scott 
Hayley Wickenheiser
Beth Underhill 
Karen Cockburn 
Male Actors

Mike Myers 
Ryan Gosling 
Michael J. Fox 
Matthew Perry 
Jim Carrey
Keanu Reeves 
Kiefer Sutherland

Female Actors

Sarah Polley
Kim Cattrall 
Neve Campbell
Sandra Oh 
Wendy Crewson 
Anna Paquin 
Meg Tilly
Male Musicians

The Barenaked Ladies 
Kalan Porter 
Bryan Adams 
Billy Talent 
Sam Roberts 
Brian Melo 
Sum 41 
Female Musicians

Avril Lavigne
Nellie Furtado 
Celine Dion
Sarah McLachlan
Chantal Kreviazuk 
Jully Black
Bif Naked 
---
---