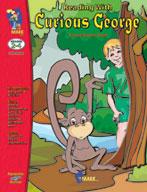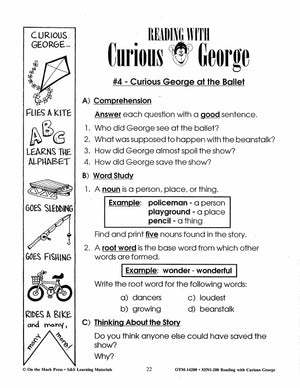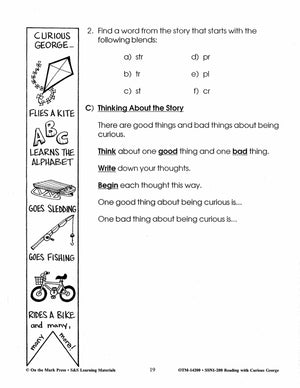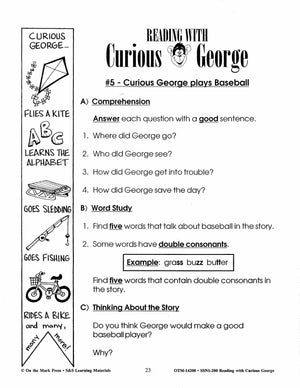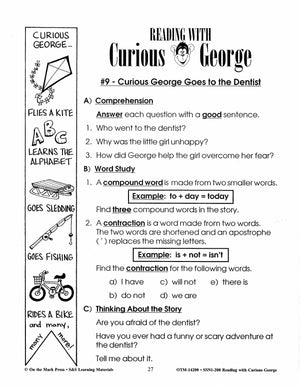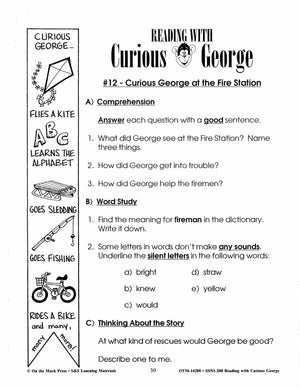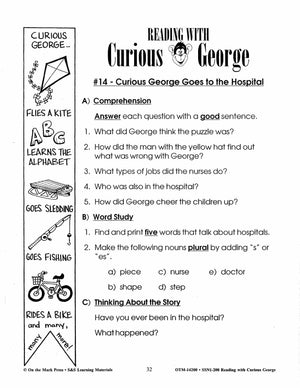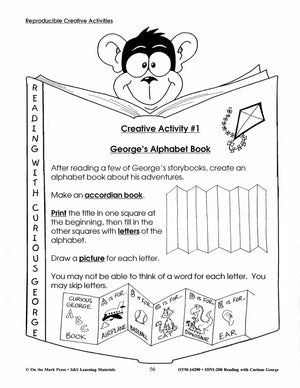 Reading with Curious George Author Study Grades 2-4
EBOTM14200
Additional information:
Author

:

Rodgers, Kathleen
Kids love Curious George! 
Here is a resource to help your students develop the literacy strategies necessary for them to derive meaning from print and illustrations, read to find new information about a topic, and think and write creatively, all using the Curious George books as a springboard.
Reproducible work sheets for 24 different books

Teacher Evaluation Sheet

24 Creativity Activities

84 pages including an answer key
Each Set of Activities for each book includes these skills:
The Comprehension section deals with Knowledge, Comprehension, Analysis, and Evaluation based on Bloom's taxonomy, e.g. identifying, sequencing events, matching a character to an event, judging why a character acted a certain way.
There are two questions under the heading Word Study. One question relates to phonics and the other to word study or grammar. If your students are unfamiliar with any of these skills, they should be taught as mini-lessons to ensure successful completion of the reading activities. The following skills will be explored:
Phonics: blends, digraphs, double consonants, double vowels, long vowels, short vowels
Word Study: adjectives, antonyms, compound words, contractions, dictionary definitions, nouns, plurals, rhyming words, root words, silent letters, suffixes, syllabication, theme specific vocabulary, verbs, verb past tenses, verb suffixes
In the Thinking About the Story section, the students are asked to relate what happened in the story to their own personal experiences or to evaluate some action or character in the story.
 Curious George Books Covered:
Curious George
Curious George Goes to the Aquarium
Curious George Bakes a Cake
Curious George at the Ballet
Curious George Plays Baseball
Curious George at the Beach
Curious George Goes to the Circus
Curious George Goes to a Costume Party
Curious George Goes to the Dentist
Curious George and the Dinosaur
Curious George and the Dump Truck
Curious George at the Fire Station
Curious George Flies a Kite
Curious George Goes to the Hospital
Curious George Goes to an Ice Cream Shop
Curious George Learn the Alphabet
Curious George and the Pizza
Curious George at the Railroad Station
Curious George Rides a Bike
Curious George Goes to School
Curious George Goes Sledding
Curious George Takes a Job
Curious George Visits a Police Station
Curious George Walks the Pets
Creative Activities:
Alphabet Bookmark
Hero Award
Monkey Bookmark
Writing Slogan
Comic Strip
Pictograph
Get Well Card
Writing an Invitation
Writing a Postcard
Writing About George
Writing a Want-Ad
Making a Story Quilt
Writing a Recipe
Safety Rules
Chimpanzee Research
Making a Game Board
Creating a Secret Code
Story Passport
Making a Paper Bag Puppet
Behaviour Report
An Acrostic Poem
Writing a Limerick
Choose a Title
Painting a Scene
Book Poster
---
---