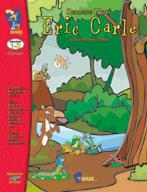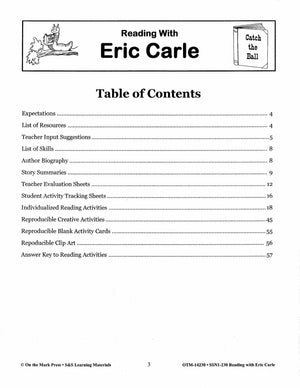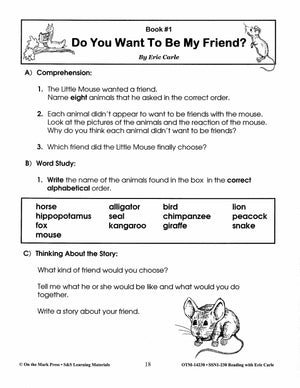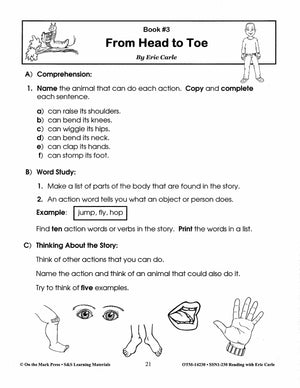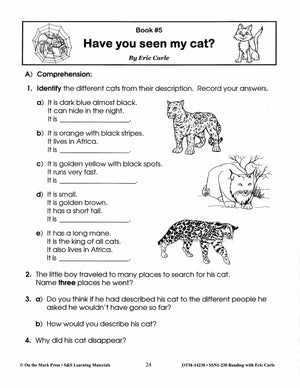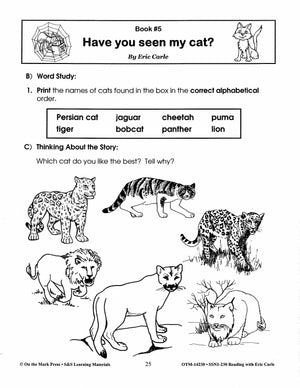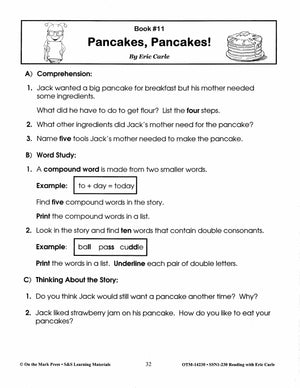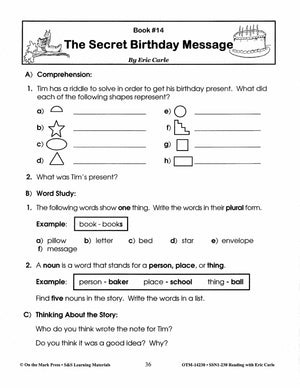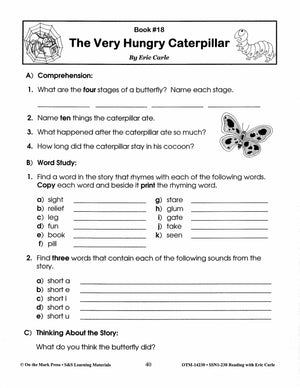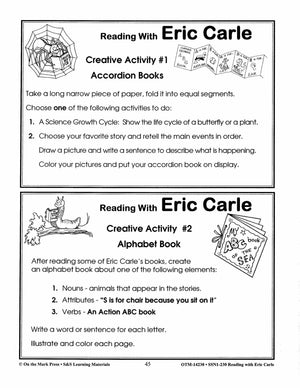 Eric Carle Author Study Grades 1-3
EBOTM14230
Additional information:
Author

:

Rodgers, Kathleen
Kids love The Very Hungry Caterpillar, The Very Busy Spider, The Very Quiet Cricket and many other stories by Eric Carle!
Here is a resource to help your students develop the literacy strategies necessary for them to derive meaning from print and illustrations, read to find new information about a topic, and think and write creatively all using books of Eric Carle as a springboard.
become familiar with an author, his writings and style of writing

identify and describe elements of stories

make inferences while reading.

make judgements about what they read on the basis of evidence.

make predictions while reading a narrative piece on the basis of evidence.

develop the ability to think and write creatively.
The questions in the
Comprehension
section incorporate some of Bloom's Taxonomy of Educational
Objectives: knowledge, comprehension, analysis, synthesis, and evaluation.
The skills used in the
Word Study
include adjectives, alphabetical order, antonyms, blends, classification of words (parts of a plant, colors, body parts), compound words, digraphs, double consonants, initial consonants, match nouns to verbs, nouns, plurals, rhyming words, root words, simple sentences, short vowels, suffixes (er, est), syllables, synonyms, verbs, and verb suffixes.
Creative Activities
incorporate the seven intelligences from Howard Gardner's Multiple Intelligences - Linguistic, Logical-Mathematical, Spatial, Bodily-Kinesthetic, Musical, Interpersonal, and Intrapersonal.
Story summaries and reproducible worksheets for 21 different books, teacher suggestions, a resource list, student tracking sheet, and answer key make this resource easy to use.
1. Do you want to be my friend?
7. The Honeybee and the Robber
8. A House for Hermit Crab
10. The Mixed-up Chameleon
12. Papa, please get the moon for me
13. Rooster's Off to See the World
14. The Secret Birthday Message
18. The Very Hungry Caterpillar
19. The Very Lonely Firefly
20. The Very Quiet Cricket
64 pages including an answer key.
---
---