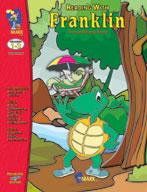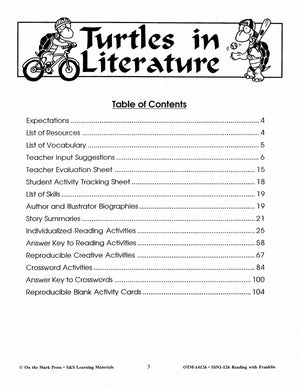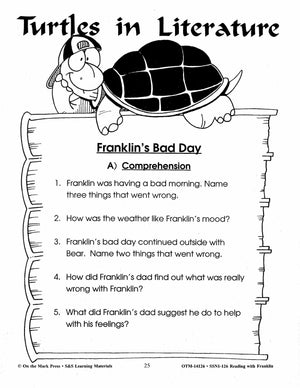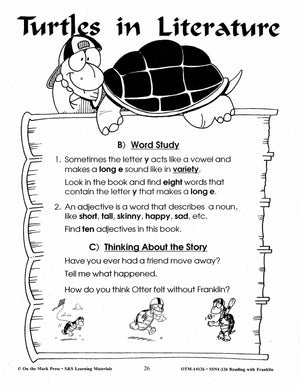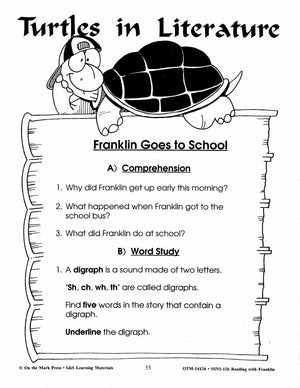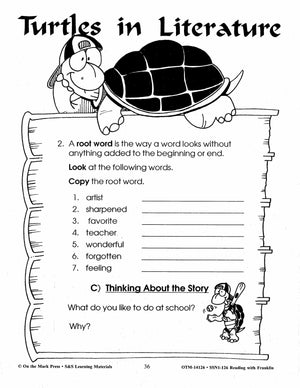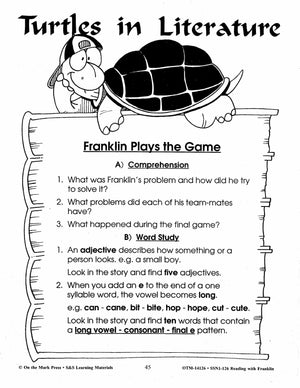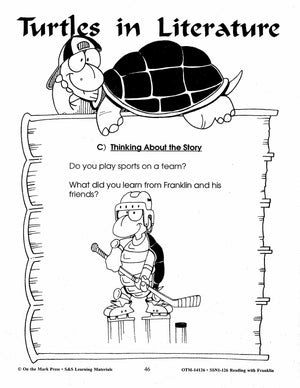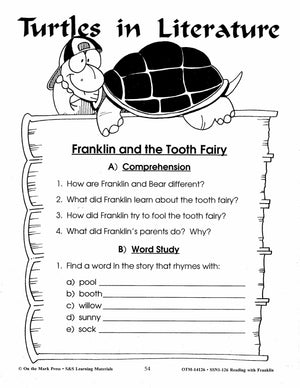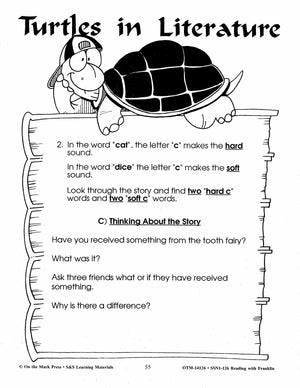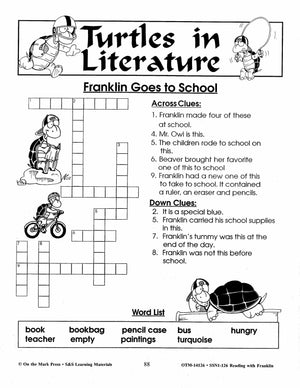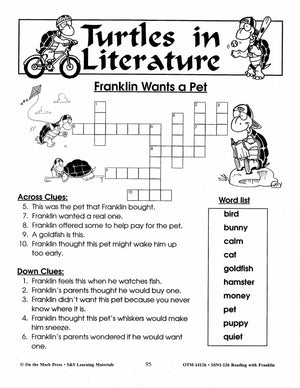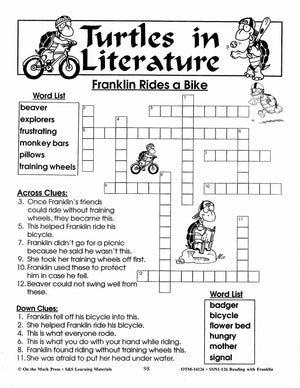 Reading with Franklin the Turtle Author Study Grades 1-3
EBOTM14126
Additional information:
Author

:

Rodgers, Kathleen
Kids love Franklin and readily identify with him as he sometimes makes poor decisions but always finds a solution to his problem. Use this resource to help your students develop the literacy strategies necessary to derive meaning from print and illustrations, read to find new information about a topic, and think and write creatively, all using the Franklin books. 108 pages

 Includes
Story summaries
Reproducible work sheets for 16 different Franklin stories
Teacher suggestions
Resource list
Student tracking sheet
Answer key
 Stories Included:
Franklin's Bad Day
Franklin's Blanket
Franklin is Bossy
Franklin in the Dark
Franklin Fibs
Franklin Goes to School
Franklin's Hallowe'en
Hurry Up, Franklin
Franklin is Lost
Franklin is Messy
Franklin Plays the Game
Franklin Rides a Bike
Franklin has a Sleepover
Franklin's School Play
Franklin and the Tooth Fairy
Franklin Wants a Pet
The  section deals with Knowledge, Comprehension, and Evaluation based on Bloom's taxonomy. e.g. identifying, sequencing events, matching a character to an event, judging why a character acted a certain way.
 There are two questions under the heading . One question relates to phonics and the other word study. If you students are unfamiliar with any of these skills, then they should be taught as mini-lessons to ensure successful completion of the reading activities. The following skills will be explored:
  short vowels; long vowels; long vowels with silent e; double vowels; "y" as a vowel; initial consonants; blends; digraphs; initial consonant substitution; hard and soft c; double letters
 : classifying words; word meanings; plural and singular words; verbs, adjectives; compound words; root words; contractions; rhyming words, one, two, and three syllable words
 In the section, the students are asked to relate what happened to the story to their own personal experiences.
---
---