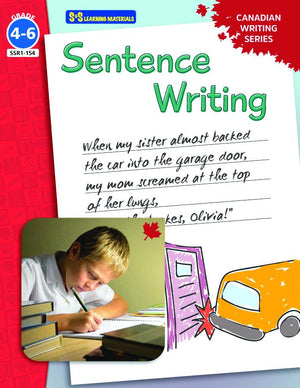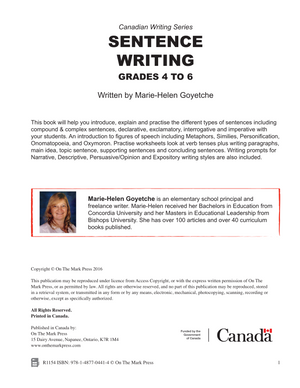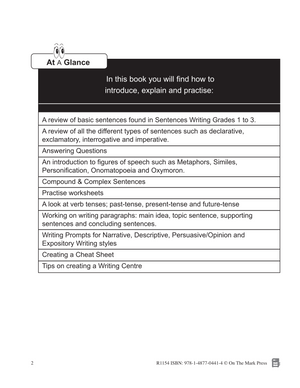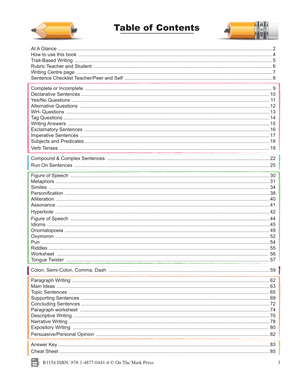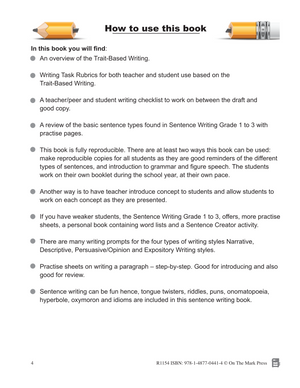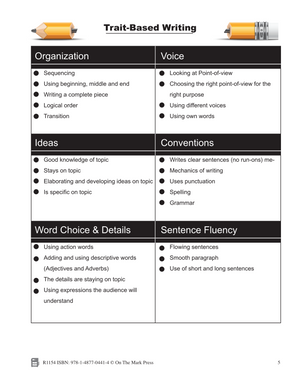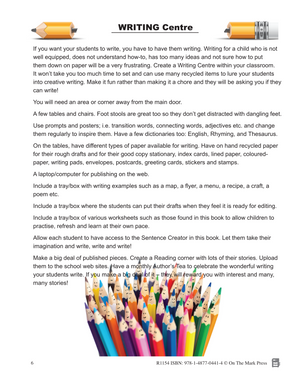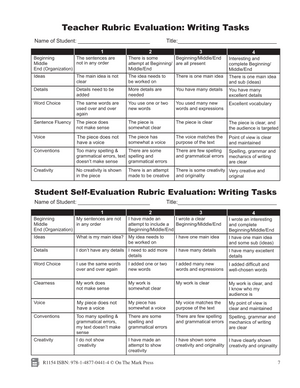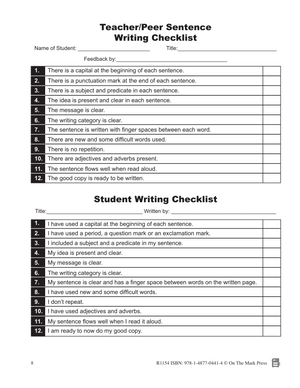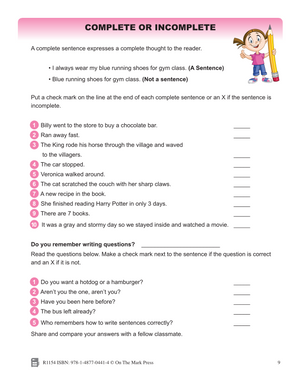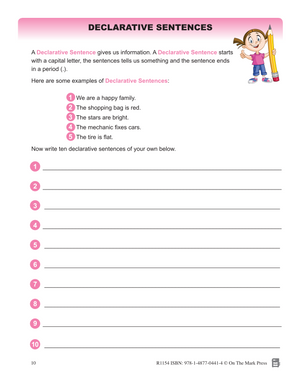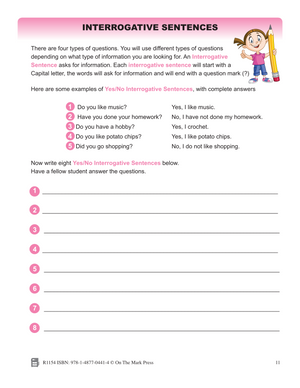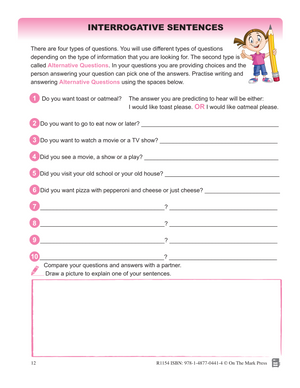 Sentence Writing - Canadian Writing Series Gr. 4-6
EBR1154
This book will help you introduce, explain and practice the different types of sentences including
compound & complex sentences, declarative, exclamatory, interrogative, and imperative with your students. 85 pages
An introduction to figures of speech including
Metaphors, Similes, Personification, Onomatopoeia, and Oxymoron.
Practice worksheets look at verb tenses plus writing paragraphs' main idea, topic sentence, supporting sentences, and concluding sentences.
Writing Prompts for
Narrative, Descriptive, Persuasive/Opinion, and Expository Writing
styles are also included.
In this book you will find:

An overview of the Trait-Based Writing.

Writing Task Rubrics for both teacher and student use based on the

Trait-Based Writing.

A teacher/peer and student writing checklist to work on between the draft and 

good copy.

This book is fully reproducible. There are at least two ways this book can be used: make 

reproducible copies for all students as they are good reminders of the different types of sentences, and introduction to grammar and figure speech. The students work on their own booklet during the school year, at their own pace.


Another way is to have teacher introduce concept to students and allow students to work on each concept as they are presented.

If you have weaker students, the Sentence Writing Grade 1 to 3, offers, more practise sheets, a personal book containing word lists and a Sentence Creator activity.

There are many writing prompts for the four types of writing styles Narrative, 

Descriptive, Persuasive/Opinion and Expository Writing styles.

Practise sheets on writing a paragraph – step-by-step. Good for introducing and also 

good for review.

Sentence writing can be fun hence, tongue twisters, riddles, puns, onomatopoeia, 

hyperbole, oxymoron and idioms are included in this sentence writing book.
In this book you will find how to introduce, explain and practise:

A review of all the different types of sentences such as declarative, exclamatory, interrogative and imperative.

Answering Questions
An introduction to figures of speech such as Metaphors, Similes, Personification, Onomatopoeia and Oxymoron.
Compound & Complex Sentences
Practise worksheets
A look at verb tenses; past-tense, present-tense and future-tense
Working on writing paragraphs: main idea, topic sentence, supporting sentences and concluding sentences.
Writing Prompts for Narrative, Descriptive, Persuasive/Opinion and Expository Writing styles
Creating a Cheat Sheet
Tips on creating a Writing Centre
---
---